ProSource | 12/12/2016 | Expert Advice
The New Year bring fresh starts. At home, this can be something as simple as painting a wall or as complex as renovating the kitchen. First things first: picking the perfect color palette. The experts have spoken, and the hottest color palettes for 2017 are here! Which one will you choose for your (big or small) remodel?
What Consumers Want
Winq, a social polling app for millennials, asked its users to reveal their top home colors for 2017, and the results are in! Forty-eight percent of respondents chose "powdery blue" as their go-to color for the New Year. In second place, at 29 percent was "dusty yellow," followed by a 19 percent response for "earth tones, like green and beige."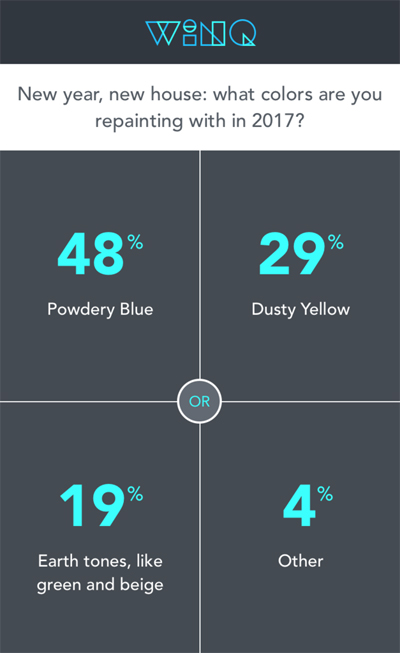 Is it representative of the rest of the world? It appears so! "The International Home and Housewares Show tipped its hat by mentioning nine color palettes that will make a splash in 2017", says Jeffrey Weldler, home decorating expert and interior design guru at Vant Wall Panels. Certainly, there's a color scheme that's just right for you:
#1—Day Dreaming. "Mild yellows and greens maximize a sense of peace and tranquility," says Weldler of the palette that was designed to relieve stress and bring a sense of calm to the day.
Adds Daniel Levine, world-renowned trends expert, director of the Avant-Guide Institute, and the publisher of WikiTrend.org, "We are seeing interior design trends in general – paint colors in particular – reflecting the current embrace of all things natural and wholesome."
#2—At Ease. Like Day Dreaming, At Ease is a comforting palette but features grays as its prevailing undertone. "Warm and cool neutrals will continue to be popular when accented with bold accessories to create an air of sophistication," says Weldler. Consider Byzantine Blue, the color Glidden has chosen to celebrate 2017, as your foundation. Choose Pigeon Wing, Mystique, and Vienna Smoke as options underfoot.
"The name may say blue, but Byzantine Blue is truly a purple in disguise," says Misty Yeomans, PPG color marketing manager, Glidden paint brand. "Its unique versatility and incredible ability to bring out certain hues based on its surroundings makes it a perfect shade for all ages."
#3—Native Instincts. For this bold but calming palette, Weldler mentions spectacular hues like smoky orchid, Carine red, and soft earth tones to complement cultural references, such as native pottery or Turkish rugs. Olympic's color of the year, Cloudberry, is soothing purple that's perfect for this palette.
"Home décor trends for 2017 are reflecting society's urge to find a space apart from constant connectedness, and to create balance by establishing our homes as places to refresh," says Dee Schlotter, PPG senior color marketing manager, Olympic Paints & Stains brand. In this case, Cloudberry is perfect.
#4—Florabundant. The name says it all: A spring garden of color includes bold splashes of red dahlia, pink yarrow, and chrysanthemum for a bright, cheery space. This palette presents the perfect opportunity to play with large-scale floral wallpapers, too!
#5—Acquired Taste. Combining reds and oranges, which aren't typically used together, makes for an exciting palette, according to Weldler. Show off your distinctive tastes with a blend of orange chiffon or brandied melon mixed up with mulberry or muted pink.
#6—Forest Bathing. Shinrin-yoku, or forest bathing, is the taking in of the forest atmosphere to enhance health. This breathtaking palette lets you connect with nature indoors. Start with a foundation of earthy blues and greens and create an unexpected contrast with the addition of purple or lime.
Levine encourages homeowners to "look for colors that speak of the outdoors, including forest greens, deep-sea blues, and earthy tones that remind us of tree bark and country stone." These colors will enhance a wide array of design schemes, from French Traditional to Rustic Contemporary.
#7—Reminiscence. With this traditional palette, you can go back in time with familiar shades of maritime blue and sepia. Then, bring the past into the present by incorporating fresh new hues like almond, olive, or PPG Paints' 2017 Color of the Year, Violet Verbena.
"Consumers now embrace the middle ground between masculine and feminine, young and old, and work and leisure," says Schlotter. "Violet Verbena's blending of gray and violet reflects that middle ground."
#8—Raw Materials. If you like to repurpose furniture, then this "lifestyle palette" is for you. It blends simple tones like denim or twig with a bright pop of color, like zephyr pink or yellow. Sherwin-Williams Poised Taupe provides a perfect backdrop for your Raw Materials scheme. Look for popular colors in cabinetry like, Moonlight.
#9—Graphic Imprints. Create a whimsical space with a base of black and white. Let your imagination be your guide as you introduce strong colors like yellow (an important color for 2017), blue, pink, green and orange.
ProSource Has The Products You Need To Be On-Trend
Color is not just found in paint, and that's where ProSource Wholesale comes in. Take your choice of palette to the next level with an impressive array of offerings.
Underfoot, the perfect carpet or hardwood color can play up your walls. In kitchens and baths, the colors of the cabinets, tile, and backsplashes will help you create a cohesive place that is so pleasing to the eye! Start browsing now!
Accessories
Bath Sinks
Toilets
Tubs
Vanities
Carpet
Hardwood
Laminate
Tile
Vinyl
Cabinets
Countertops
Kitchen Sinks
Basement
Bathroom
Bedroom
Dining
Entertainment
Entry/Hallway
Kids Room
Kitchen
Laundry
Living Room
Media Room
Office
Design
Home Remodeling and Commercial Renovation Made Easy
Whether you are updating a little, doing a full-scale remodel, you've come to the right place. Browse stunning spaces created with the help of ProSource Wholesale. Gain knowledge from articles with project tips and trends ideas. Browse over 50,000 products at low, wholesale prices. Then connect with your local showroom to get started.
Helping You Complete Successful Projects
With a team of product and project experts who provide personalized service tailored to your needs, ProSource is the source for project success. We're more than a home improvement store. Since 1991, we've been a trusted partner for trade professionals and their clients.
---
ProSource Helps Complete Successful Projects. Make Yours Next. Find A Local Showroom