ProSource | 12/19/2017 | Expert Advice
Ah, how eagerly the design world anticipates the annual color of the year announcements! In 2018, trade pros and homeowners alike will be rewarded with a daring selection of intense colors. Will one or more of these fabulous colors make their way into your next design scheme?
CALIENTE AF-290 From Benjamin Moore
Red is known as a statement color, and it makes one for 2018.
Benjamin Moore & Co.'s Ellen O'Neill describes Caliente as "the signature color of a modern architectural masterpiece; a lush carpet rolled out for a grand arrival; the assured backdrop for a book-lined library; a powerful first impression on a glossy front door. The eye can't help but follow its bold strokes. Harness the vitality."
Playing off the feisty Caliente is a palette of complementary hues ranging from white and silver to charcoal and black. Benjamin Moore designers suggest a variety of ways to incorporate the spicy color in any home:
Add a dose of dramatic energy of Caliente to the nostalgic calm of a classic farmhouse.

Lighten up the geometric lines of a modern design with Caliente's playfulness.

Let Caliente warm up the weathered hues of a beachy seaside-inspired space.

Greet guests with a punch of color by featuring Caliente in the entryway.
DEEP ONYX 00NN 07/000 From Glidden® Paints By PPG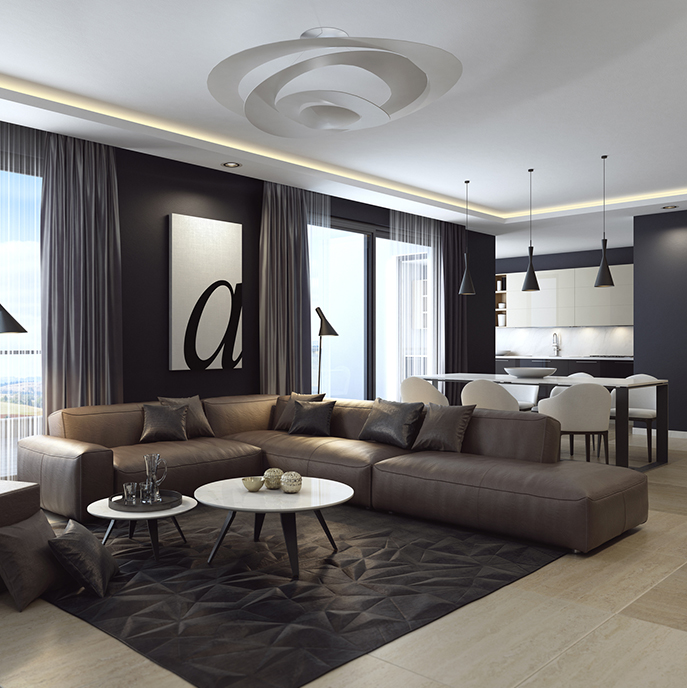 The folks at Glidden want to "bring it back to the basics with the most forgotten neutral – black." Deep Onyx is just that: an easy-to-use color that's trendy yet authentic.
"Using a black paint color like Deep Onyx on your walls or in your décor may feel intimidating at first, but it's actually one of the easiest colors to use to create the low-key, easygoing style that's trending for 2018," says Misty Yeomans, PPG color marketing manager for Glidden paints.
"Black can be overlooked as a neutral color, but it works well on an accent wall or as an alternative to white paint on doors, trim, and cabinets. Just like a little black dress, Deep Onyx is a classic, timeless staple," says Yeomans, who offers helpful tips to get started:
Take a photo of your space and test Black Onyx using Glidden paints' virtual room painter tool.
Pair Deep Onyx with other classics like navy, khaki, or green.
Achieve a modern look with a combination of Black Onyx and a clear, crisp white.
Freshen up a room by complementing Black Onyx with a touch or coral or pink.
BLACK MAGIC OL116 From Olympic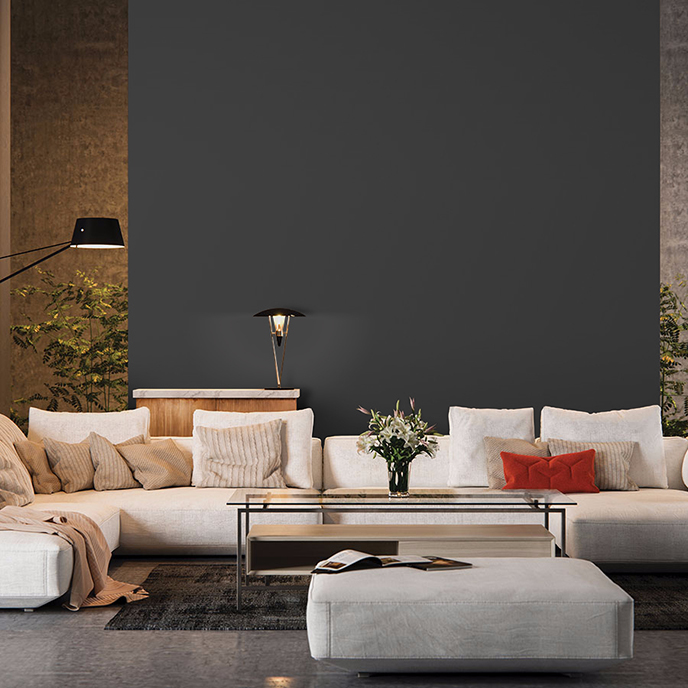 The color experts at Olympic say their choice of black "embodies glamour and strength." Black Magic is a timeless color that makes a powerful statement in big doses or small.
"In past years, consumers have gravitated toward open, airy spaces that are thought to leave room for exposure," says Dee Schlotter, PPG senior color marketing manager for Olympic paint. "However, in the current day, consumers often feel uneasy, restless, or like their privacy is being invaded, so they crave deep, comforting colors that offer a welcomed escape from the chaos of daily life. Black Magic perfectly satisfies consumers' desire for privacy."
Olympic recommends pairing this neutral with grays, warm whites, or soft pinks. Black Magic is strong enough to ground an open, airy space without overpowering it.
Use Black Magic on exterior window trim – like a picture frame – to showcase your home.
Let the depth of Black Magic highlight wooden and distressed-wood décor.
Build on the Black Magic foundation with semi-transparent, semi-solid, and solid shades of weathered gray or blackish blue.
OCEANSIDE SW6496 From Sherwin-Williams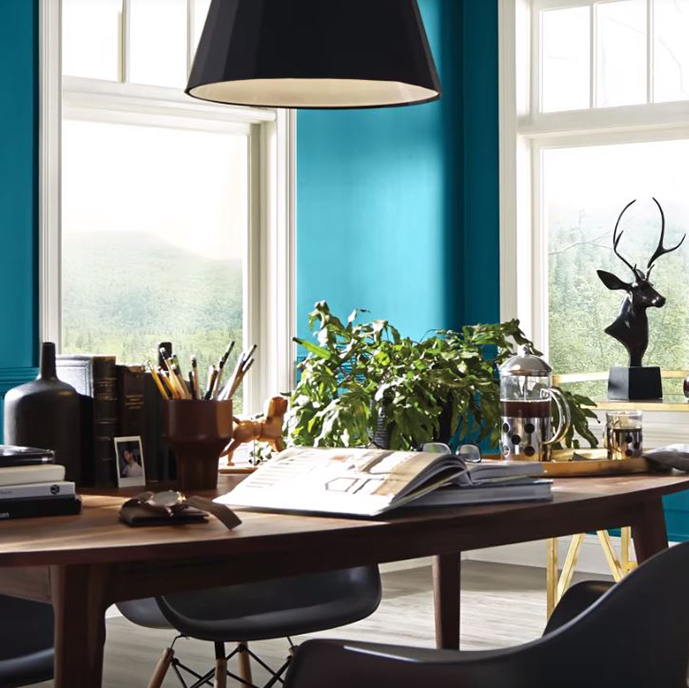 Houston interior designer Rainey Richardson will be using "anything but neutral tones" in 2018. "Things are moving in a bold direction," she says. "Reds, strong blues, and vibrant greens. People have tired of neutral (sometimes boring) palettes."
Oceanside is up to the task. "A collision of rich blue with jewel-toned green," it's a color that is "both accessible and elusive," says the color experts at Sherwin-Williams. The bright hue plays well with a rainbow of colors (think pink and yellow) as well as in a variety of design styles (from mid-century modern and contemporary to traditional and Mediterranean).
A front door painted Oceanside creates stunning curb appeal and welcomes guests with pizzazz.
The green-blue tone works well in a home office, where it will serve to boost creative thinking.
Use Oceanside in a bedroom or reading nook to create a meditative atmosphere.
Liven up a kitchen with an Oceanside island. It will be the focal point of the room.
GOLD RUSH From Shaw Floors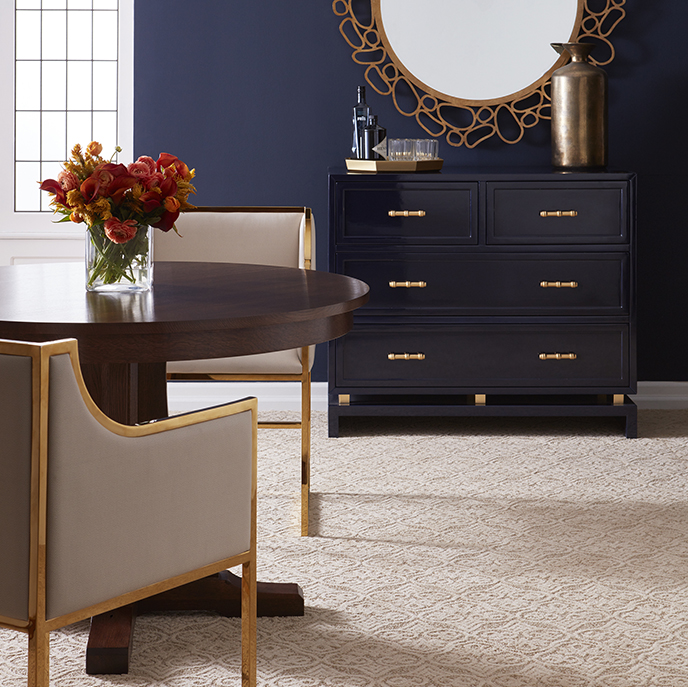 Like black, gold is a color that's not often thought of as a neutral. But Shaw Floors' Gold Rush is just that: a versatile neutral that "reinvigorates and re-invites." It effortlessly adds visual warmth to natural textures such as wood, metal, and leather and runs the gamut from relaxed to glamorous.
"Golden hues evoke positivity, excitement, and sophistication," says Debbie Houston, Shaw Floors creative director. "With Gold Rush, styling options are diverse, so color can easily be the focal point or used to accentuate the overall design."
Use Gold Rush in small amounts to make a big impact.
Pair Gold Rush with, green, navy, or one of the above 2018 colors of the year for a truly bold statement.
Achieve an airy yet luxurious look by layering Gold Rush with white.
How will you use one of these spectacular colors of the year in your next project? Find inspiration at ProSource Wholesale®. You can browse inspiration for endless room designs created by talented trade pro members, get an up-close look at similar or complementary flooring color options at a local ProSource showroom, or connect with a talented design expert to create a one-of-a-kind space that customized just for you. Make 2018 your most colorful year yet!
Basement
Bathroom
Bedroom
Dining
Entertainment
Entry/Hallway
Kids Room
Kitchen
Laundry
Living Room
Media Room
Office
Design
Home Remodeling and Commercial Renovation Made Easy
Whether you are updating a little, doing a full-scale remodel, you've come to the right place. Browse stunning spaces created with the help of ProSource Wholesale. Gain knowledge from articles with project tips and trends ideas. Browse over 50,000 products at low, wholesale prices. Then connect with your local showroom to get started.
Helping You Complete Successful Projects
With a team of product and project experts who provide personalized service tailored to your needs, ProSource is the source for project success. We're more than a home improvement store. Since 1991, we've been a trusted partner for trade professionals and their clients.
---
ProSource Helps Complete Successful Projects. Make Yours Next. Find A Local Showroom