ProSource | 4/9/2017 | Expert Advice
If your clients are looking for the latest kitchen and bath design trends, you're in luck. The 2017 Kitchen and Bath Industry Show (KBIS) in Orlando offered up a convention center full of inspiring innovations and ideas. And the best news of all? Your clients can incorporate them into their projects, with products you'll find at your local ProSource Wholesale Showroom.
Here are some of the top trends coming from KBIS – and maybe coming soon to a kitchen or bath near you.
Faucets Are Adding A Splash Of Color
For clients and designers hoping to venture beyond silver and bronze, the timing couldn't be better. Faucets and handles are hitting the market in more colors and finishes than ever before, offering another opportunity to add a custom touch to bathrooms and kitchens.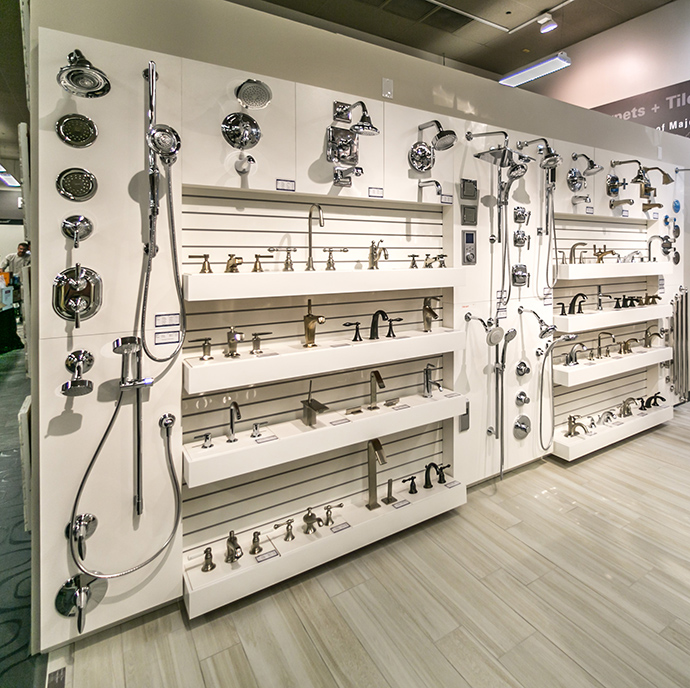 Rose gold tones and varying shades of bronze are adding a wealth of new choices to the color spectrum. Further down that spectrum, matte black faucets are making a bold statement. Find this and other faucet designs at your local ProSource Wholesale showroom.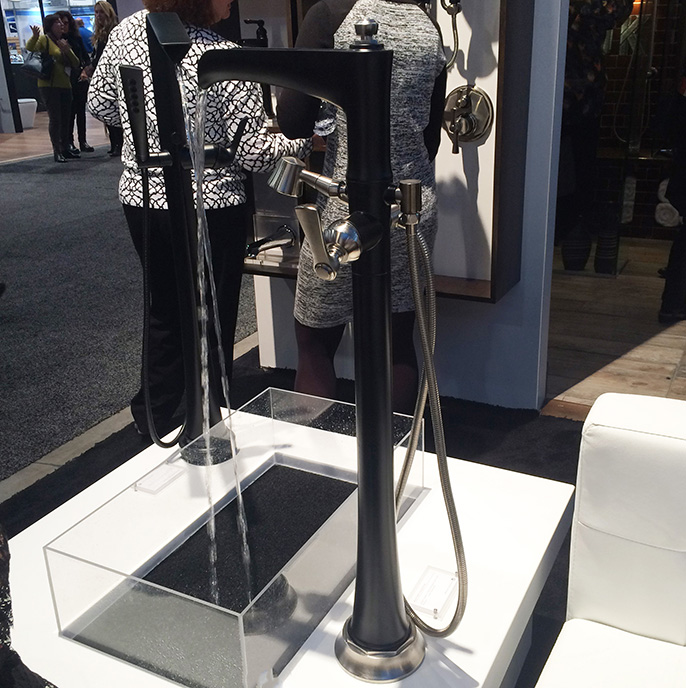 Cabinet Hardware Is Looking Rosy
When it comes to cabinet pulls and knobs, it seems everything is coming up roses – including rose gold and copper tones. For example, the Top Knobs Aspen collection features a wonderfully warm color option: Mahogany Bronze.
Copper is also making a comeback in hardware, not just in more traditional designs, but also more contemporary collections like Dakota by Top Knobs.
More Sides Means More Interest
Who says that tile shapes have to stop at four sides? Certainly not the exhibitors at KBIS 2017. In fact, if square and rectangular tiles are good, the new wisdom is that hexagonal tiles can be better – especially to add contrast in more streamlined design settings. Your clients can add extra dimension to their tile design with choices like Ocean Jewels Accent Hexagon from Dal-Tile, one of the many options at ProSource.
Taking Steps To Stay Eco-Friendly
Today's homeowners are choosy about the products they put into their living spaces. As the trends from KBIS 2017 show, they want those products not only to look good and work well; they want them to be responsible choices.
That means products made with a focus on creating a smaller footprint, like flooring from Armstrong. It also means products that help homeowners use resources more responsibly, like water-efficient faucets, showers, tubs and toilets.
Small Spaces Are Making Big News
As the remodeling professionals who attended KBIS 2017 saw, you don't need a big space to create a kitchen or bath with big impact. More compact versions of cabinets, vanities and fixtures are packing lots of great features into smaller, stylish packages.
Even if you didn't make the trip to Orlando for KBIS 2017, these top show trends should give you ideas to take your clients' projects to the next level. Now you only need to make a trip to your local ProSource Wholesale showroom, to give your clients a first-hand look at products that are making design headlines this year.
Bath Sink Faucets
Bath Sinks
Shower Bases
Vanities
Cabinet Hardware
Cabinets
Countertops
Kitchen Faucets
Kitchen Sinks
Bathroom
Kitchen
Laundry
Home Remodeling and Commercial Renovation Made Easy
Whether you are updating a little, doing a full-scale remodel, you've come to the right place. Browse stunning spaces created with the help of ProSource Wholesale. Gain knowledge from articles with project tips and trends ideas. Browse over 50,000 products at low, wholesale prices. Then connect with your local showroom to get started.
Helping You Complete Successful Projects
With a team of product and project experts who provide personalized service tailored to your needs, ProSource is the source for project success. We're more than a home improvement store. Since 1991, we've been a trusted partner for trade professionals and their clients.
---
ProSource Helps Complete Successful Projects. Make Yours Next. Find A Local Showroom