ProSource | 11/13/2018 | Expert Advice
This is part 5 of 6 within ProSource Wholesale's how to guide for helping trade professionals grow their business on a smaller marketing budget.
Dripping isn't a sound most contractors, builders, or remodelers — or their clients — want to hear. But unlike leaking pipes, email dripping can produce absolutely pleasant, profitable results.
What is an email drip campaign? Essentially, it's email marketing for contractors or other trade pros that's sent out regularly to prospects and customers. By consistently engaging people who have opted to receive messaging, you're able to showcase talents, solve their problems, position yourself as an industry expert, and leverage technology in a crowded, competitive market.
If you're eager to get more mileage from every contact you make or client project you satisfactorily fulfill, you deserve to learn more about how a trade pro email marketing plan can work for your business.
Setting the Stage for Serious Business Advantages
Marketers everywhere suggest small and large businesses harness the power of home improvement or interior design email marketing campaigns. Why? One reason is that they offer incredible returns on investment (ROI). Some numbers indicate that the average ROI of smartly executed email drip campaigns for contractors can be quadruple that of other types of advertising. Those figures would excite anyone!
Another reason to love email marketing is that it allows direct communication with warm leads and clients. You don't have to pick up the phone for them to feel like you're personalizing a message tailored specifically for their needs. Automated email marketing platforms such as MailChimp and Constant Contact enable you to create content that sounds customized but is relevant for a wide swath of individuals.
Yet a third advantage to emailing your audience is having all the control in setting the pace. Want to send emails every week from your construction business? As long as you're willing to pull together the content, you can. Prefer to set up a drip campaign that eases people into receiving your messages biweekly or monthly? You have that option. Essentially, you can drive the conversation with your words, images, and subject lines.
Starting Your Home Improvement or Interior Design Email Marketing Plan: The List
Ironically, many of your biggest competitors aren't engaging in email marketing for interior designers or contractors. Why not? They're probably thrown off by what may seem like an overwhelming prospect: getting a list of emails together.
Although the task of building a name and email database can seem daunting, it isn't hard to get started. In fact, you likely have the information you need to get an email campaign rolling by tapping into any of the following existing sources of email information:
·
Past customers:
Unless you've never done work before, you no doubt have a list of at least a few past customers. Even if you don't have updated emails, you could easily pick up the phone and request the best email addresses to use.
·
Current customers:
Like your past customers, your current customers are an ongoing mine of emails. Don't be afraid to ask for their email addresses. Most will be happy to provide them — as long as they're pleased with your work.
·
Referral sources:
Who tends to give you referrals beyond past customers? Trade professionals who aren't in competition with you? Your good friends? Neighbors? Fellow Rotarians or other service professionals? Add their information into your growing database.
·
Employees and subcontractors:
Your email list should include anyone you work with, whether direct hires or subcontractors. After all, they have every reason to send potential buyers your way for bids.
·
Family:
This can be a tricky one, although family members aren't necessarily a bad inclusion on your contractor email marketing plan list. Just make sure to pick those that live in the area and have a vested interest in referring your brand. Your grandmother across the country might enjoy seeing your email marketing newsletters, but she probably isn't going to send you much business.
At this juncture, you probably have a decent amount of emails in a spreadsheet. As you move forward, start adding more people to your email marketing through innovative measures:
·
Trade show attendees:
Planning to set up a booth at a local trade show or homebuilder's event? Be sure to have an email sign-up sheet on hand.
·
Trade show participants:
You never know when another trade show professional could be interested in hearing more about your services. Network at other tables and booths at every show you attend.
·
Website visitors:
Be sure you've included a strong call to action (CTA) on your website to encourage people to provide email addresses.
·
Social media followers:
Just as you did on your site, ask your social media advocates and loyalists to give you a little email love. You can't be too bold: If you don't ask people to sign up for your email newsletter, no one will.
·
Everyone who calls for information:
Whenever people call your business for a quote or appointment, capture their email addresses. Even if you aren't able to help this time around, you may win over the callers later.
Interested in being a bit more aggressive? Choose innovative offline methods to boost incoming email addresses by adding a call to action on your wrapped business trucks, business cards (for every employee, not just you), advertisements, billboards, flyers, invoices, and estimates.
In time, your email list will grow organically. Make life easier: Segment your lists early by type of audience (e.g., past customers, new customers, leads, referral sources, media personnel, social media followers, and trade professionals). That way, you can be more malleable with your messaging.
Discern What to Say in Your Emails
After you have a segmented email list brimming with interested people, figure out what you're going to say when you send planned emails or email newsletters. While there's no specific right or wrong way to organize an email marketing campaign, consider beginning with simple newsletters.
Ideas on what to talk about in each newsletter email:
· Highlight a recent project, even if it's not finished yet.
· Write a blurb about a strong landing page on your website to increase traffic.
· Send readers to recent media about your projects.
· Let readers know about upcoming events you're sponsoring or supporting.
· Show before and after photos of specific projects.
· Announce a limited-time offer, such as a percent off a certain type of project.
· Rewrite a piece of a longer blog post, and then send readers to the actual post.
· Highlight one of your team members or a trusted subcontractor.
· Answer a frequently asked question you regularly receive from customers.
· Offer a link to a quiz, project cost estimate calculator, or other item on your website.
In time, you'll discover you have endless possibilities when it comes to drafting email newsletters suited perfectly for email marketing for remodelers, contractors, interior designers, builders, and other trades businesses.
Enticing Strangers to Give You Their Emails
At some point, you may feel like you've plateaued. You're not getting as many emails as you once were. It's the ideal time to reassess your builder or interior design email marketing plan and add some tweaks.
First, you may want to move your CTAs requesting emails on your website. Though most people are right-handed, some are left-handed. If your CTAs have always been in the upper right-hand corner of your web pages, switch some to the left-hand side and see what happens. Similarly, instead of asking people to sign up at the end of your blog posts, why not add a CTA in the middle as a callout block?
Next, try giving away something in exchange for prospects' emails. Many businesses offer free items that have some kind of value, like a whitepaper download outlining trends in home building, remodeling, or interior design. Willing to send something in the mail? Capture both email and postal addresses by sending magnets or similar hang-around items with your information and logo.
Still feel like you're not getting enough new emails? Go to your five biggest competitors' sites (or any websites for people in your industry) and sign up for their email lists. See how they're getting prospects to give up their info. You might learn a new trick that could change the way you move forward. As long as you're ethical and honest, you can be as creative as you like.
Using an Auto-Responder to Massage Your Email List
Regardless of whether you give people something for initially handing over their email addresses, you should always have an auto-responder acknowledge their input. You've likely received an auto-responded message yourself, like when you purchased something from an online retailer and a message immediately arrived in your inbox.
When your prospects get an auto-response, they have one more reason to remember you. It's like a touchpoint you don't have to think about. Your first auto-responder message doesn't need to be long and inspired — just short and sweet. Thank a visitor for her address, encourage her to visit your blog or follow you on social media, and maybe provide a special offer if she uses your services within a specific time frame.
Without an auto-response, many people will be confused. Did their email go through to sign up for your contractor or interior design newsletter? What will happen next? Did they do the right thing? Your auto-responder message satisfies them with answers and stops them from catastrophizing. Plus, it gives them comfort knowing they're working with a professional.
Tracking and Tweaking Your Email Marketing Campaigns
Obviously, contractor and builder email marketing campaigns don't work if they're stuck in "set it and forget it" mode. They're a vibrant, vital part of your overall marketing plans. As such, they must be tracked and tweaked continuously.
Tracking each campaign involves evaluating specific data points, like open rates, click-throughs, and opt-outs. Both Constant Contact and MailChimp, along with the majority of other proprietary email marketing platforms, have embedded analytics so you can easily measure and compare statistics from one email to the next.
What's a good number to see in terms of open rates? It all depends on your baseline, which you can gauge after sending your first dozen emails. Is one performing better than the others? Or are they all having the same success rates? These beginning figures will become your "floor" — to hit the "ceiling," you'll need to make tweaks.
Headlines are a good starting point. You can do everything from A/B split testing (running one headline to half the group and another headline to the other half) to changing the format to a personalized subject ("Kevin, We Have a Deal for You!" versus "We Have a Deal for You!"). Ideally, all headers must have a sense of urgency. Readers react instantly and are quick to delete nonessential emails; thus, you have to give them a reason to open yours.
You can also measure the size and quantity of images, length of emails, etc. Just remember to do one test at a time (and only after you have a solid baseline to measure against). Otherwise, you might not know how to determine what is and isn't working.
Winning at Email Marketing: Final Thoughts From the Pros
At this point, you're ready to start your email marketing, but acknowledge some of these best practices before diving headfirst into the waves:
· Spamming is a big no-no. As a HubSpot survey indicated, nearly eight out of 10 people unsubscribe from business emails because they get too many per day or week.
· Sending emails on Tuesdays mid-morning or late in the evening seems to work well. However, you'll want to test this on your own brand's email list to find the sweet spot.
· Personalizing emails can improve opens and click-through rates by a third. Just don't make every sentence start with a person's name. And be sure you have the correct spellings!
· Sending out emails requires a commitment. If you miss an expected issue, you'll have a black mark on your record. Some people look forward to receiving email newsletters; don't let them down.
Ready to warm up your prospects while keeping past and current customers in your circle of influence? Establish deeper relationships and earn more street cred — all with some well-considered email marketing content.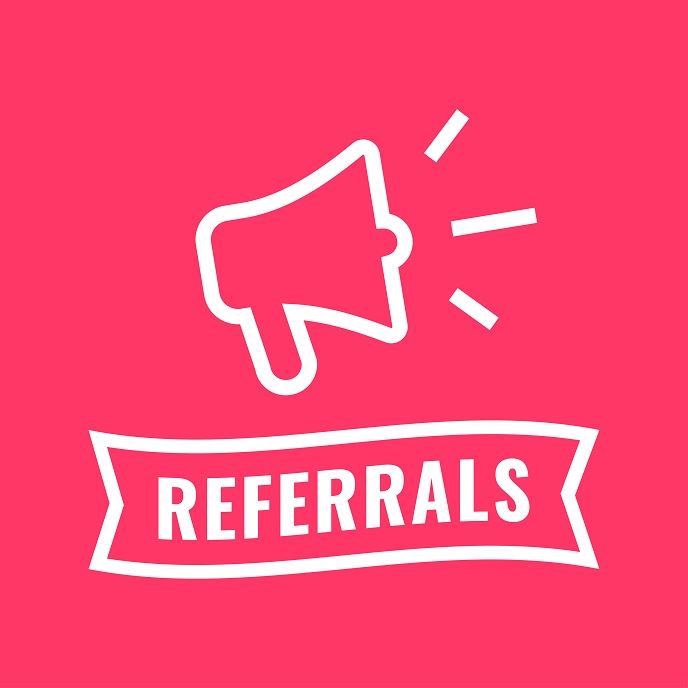 Budget
Free eBook: 19 Tips For Growing Your Home Remodeling Business

As a trade pro, growing your business on a small marketing budget may seem daunting. It doesn't have to be.

ProSource has created a handbook to help you navigate and understand marketing tactics that work well alone, and in tandem, to attract more customers.

It's an easy-to-follow, content-rich guide for industry pros: interior designers, builders, contractors, installers, and remodelers.

And it's FREE.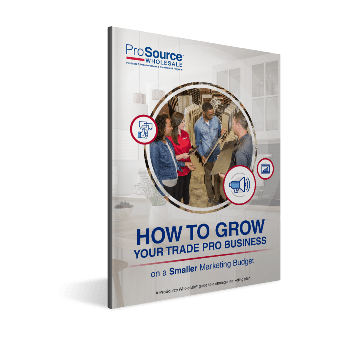 ---
BONUS: We'll also include a marketing checklist! Download the eBook