There's no one formula to designing the perfect space. It all depends on what you're looking for. If you're a homeowner, your ideal space might be open and airy. Maybe you're a trade professional remodeling a tiny bathroom to be cozy and inviting. Should these spaces feature classic or modern lines? Should they include loads of color or simple neutral hues? If you were to list the features that match your needs or your client's needs, you'd soon discover that they come together in a specific design style.

Here, we elaborate on the six most popular interior design styles trending on prosourcewholesale.com. The next time you hear terms like "transitional" or "rustic" or need to know the difference between "modern" and "contemporary," you'll know how to use these design styles for your (or your client's) home. Armed with that knowledge, you're ready to plan, shop, and create that perfect space!
Transitional: A Perfect Blend of Traditional And Contemporary Styles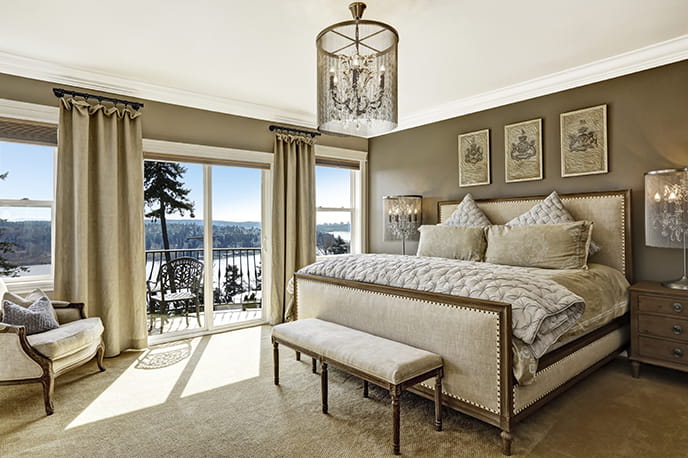 "Transitional style steers clear of formal and stuffy without necessarily being casual," says Liz Toombs, owner and president of PDR Interiors in Kentucky. This is the style most often requested by Toombs' clients "because it allows them to play with elements from various other design styles and not be pigeonholed."

Larry Greene of Case Design/Remodeling Indianapolis agrees: "The seamless blend of the two design aesthetics is characterized by simplicity and a timeless feel." Creating a timeless feel means using timeless materials and décor, such as iron and wood in the kitchen or living areas.

The bedroom above is an excellent example of transitional design. It has a classic appeal without feeling too conventional; it's grand, but not pompous. The monochromatic color scheme is anchored by creamy, neutral carpeting that sets a calm tone from the bottom up. There are countless bedroom flooring ideas that can work with your space, but carpeting like this can give you that contemporary look.

ProSource offers thousands of products, from shining chrome faucets to stunning white carpeting, that meet the transitional style definition. Visit our room Inspiration page to view ProSource members' amazing projects from all across North America. Just choose the type of room you're designing, select a budget, click "transitional," and find your inspiration!
Modern: Shiny, Sharp, Minimalistic Style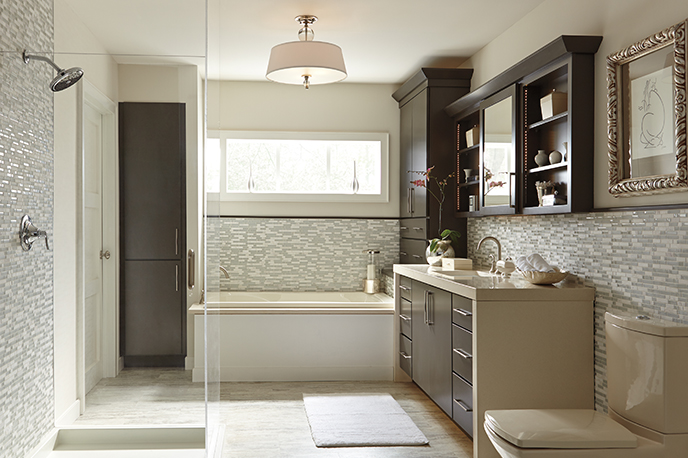 While the two styles are often confused, "the modern aesthetic is a bit more industrial than contemporary style and often incorporates clean shapes and surfaces," explains Greene. Modern is particularly popular in kitchens and bathrooms.

By pulling in elements such as sleek laminate floors and steel accents, modern design exudes coolness. "Think Jetsons," says Toombs. "Silhouettes are sharp and can be funky, and the use of glass and silvery metals is prevalent." When you think of your custom small bathroom or kitchen, consider which flooring choices will make that space pop.

The gorgeous modern bathroom pictured above maintains clean, simple lines but is anything but boring. The dark cabinetry stands out brilliantly amid the glass tile and shower. Get a similar dramatic look for your home or your clients at incredible wholesale prices with Teagan slab cabinets, brushed nickel cabinet pulls, and stunning mosaic tile from ProSource Wholesale.
Traditional: A Classic, Formal Style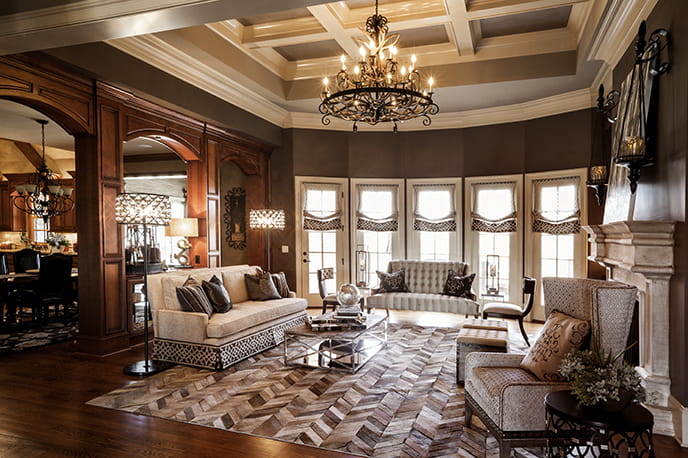 "Traditional style incorporates a lot of rich wood tones and deep colors that can make a space feel more formal," says Toombs. Characteristics include ornate finished wood; oriental rugs; tapestry fabrics and upholstery; and significant draperies or window coverings.

Greene incorporates traditional design in formal dining and sitting areas. "Furnishings are placed in formal arrangements that invite a certain flow of activity," he explains. "Pieces and fabrics are usually meticulously matched."

Dan Moyer Jr., national director of social media for Closet Factory, says that most furniture nowadays is made of pressed, engineered wood. "Incorporating real, high-quality wood furniture reminiscent of the 1950s can help achieve a traditional look," he says.

Moyer encourages homeowners to reinforce the traditional theme by selecting pieces, such as cabinets, made of clean polished walnut, oak, or rosewood. ProSource's line of solid wood cabinets is impressive and provides the perfect start to a room with truly traditional style.
Contemporary: Clean Lines That Reflect Design's Most Current Trends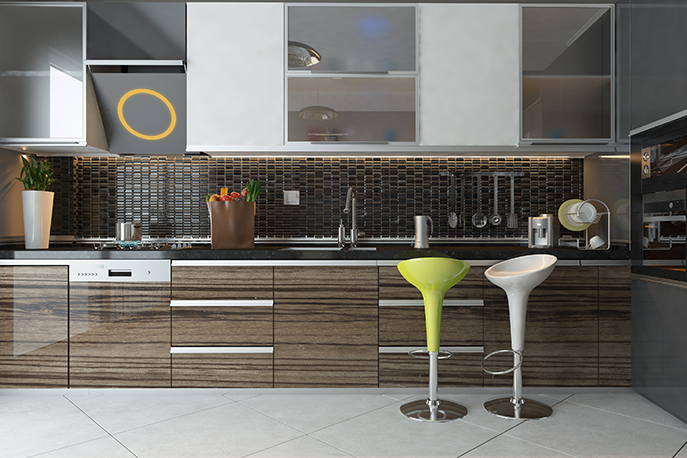 "Contemporary describes the design of the 20th century that isn't quite as architectural and geometric as you would find in modern style," says Greene.

This design style is current and relevant. A contemporary kitchen, for example, might display the latest trend of combining three or more colors in one space. (A pre-2016 contemporary kitchen, on the other hand, would have featured no more than two colors.) To achieve this look, start with hardwood flooring and add glass elements via backsplashes, tables, and décor.

The room featured above includes a spectacular combination of dark brown, white, and pale green cabinets. The sleek marble island and the quartz countertops are beautifully complemented by the silvery accents of the appliances, bar stools, faucets, hardware, and pendant lights.
Coastal: Tranquil, Sea-Inspired Design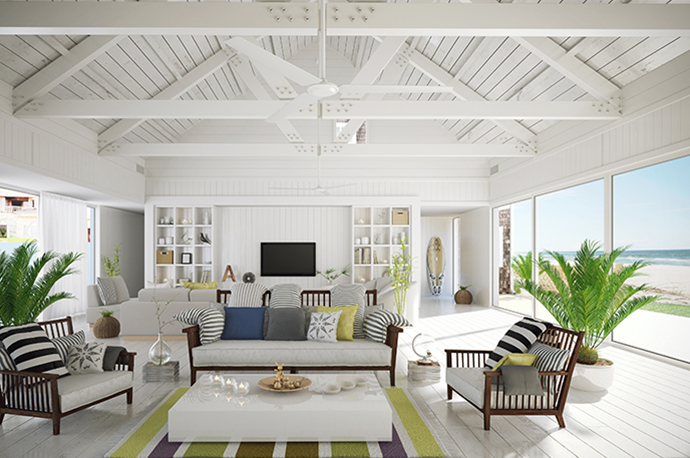 "As the name suggests, coastal style is inspired by the ocean," says Toombs. You'll often see a blend of tranquil sea colors — blue, aqua, white, tan, cream — complemented by whitewashed or gray washed woods that resemble driftwood.

Toombs incorporates "woven materials, such as sisal rugs, banana-leaf baskets, and seagrass wall coverings" in coastal rooms, while Greene utilizes "stucco, tile, and painted wood in open, breezy floor plans."

ProSource offers thousands of marine-inspired materials, from colorful porcelain tiles to beachy resilient flooring. Scoop up your coastal design elements at wholesale prices!
Rustic: Pulling Elements From Nature In Their Raw Form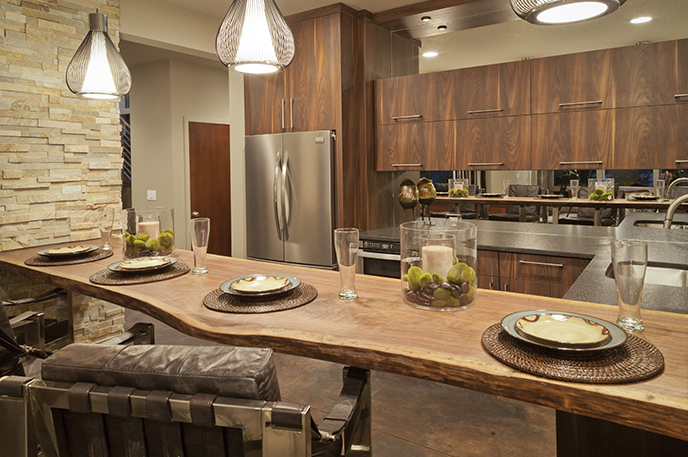 Nothing defines pure rustic styling better than a log cabin. Picture slate floors, reclaimed wooden furniture, and metals with a patina finish. "This style puts an emphasis on natural textures and materials and often goes hand in hand with a cozy, warm aesthetic," says Greene.

Megan Carolan, a "self-proclaimed home décor obsessee," loved the idea of incorporating a farmhouse style but was compelled to make it her own with some modern touches.

"I kept hearing the same phrase — rustic chic — from everyone who saw it," she says. "We modernized our otherwise rustic space with gold accessories, like cabinet hardware, light fixtures, and wallpaper." Carolan said these modern touches helped refine the reclaimed wood beams that defined the open space.

What's Your Design Personality?
It's easy to be swayed by any (or all) of the examples on this design styles list, but what's right for you or your clients? We've rounded up six super simple ways to determine which style is the best fit for your current project. You may find that you're both rustic and contemporary (check out how fabulous they look together!) or that you are a true traditionalist through and through. Whatever your preference is, defining these home design styles should be your first step.

Before you begin, make sure you've created an online account with ProSource. Then you'll be able to keep all of your design inspiration in one place right on your myProSource project board and share it with friends, families, and even potential contractors and design pros. And if you're a trade professional, this gives you a solid foundation for your client's needs. It takes just a free account to get started! Let us know what style you choose!
Basement
Bathroom
Bedroom
Dining
Entertainment
Entry/Hallway
Kids Room
Kitchen
Laundry
Living Room
Media Room
Office
Outdoor
Design
Home Remodeling and Commercial Renovation Made Easy
Whether you are updating a little, doing a full-scale remodel, you've come to the right place. Browse stunning spaces created with the help of ProSource Wholesale. Gain knowledge from articles with project tips and trends ideas. Browse over 50,000 products at low, wholesale prices. Then connect with your local showroom to get started.
Helping You Complete Successful Projects
With a team of product and project experts who provide personalized service tailored to your needs, ProSource is the source for project success. We're more than a home improvement store. Since 1991, we've been a trusted partner for trade professionals and their clients.
---
ProSource Helps Complete Successful Projects. Make Yours Next. Find A Local Showroom