ProSource | 8/23/2016 | Expert Advice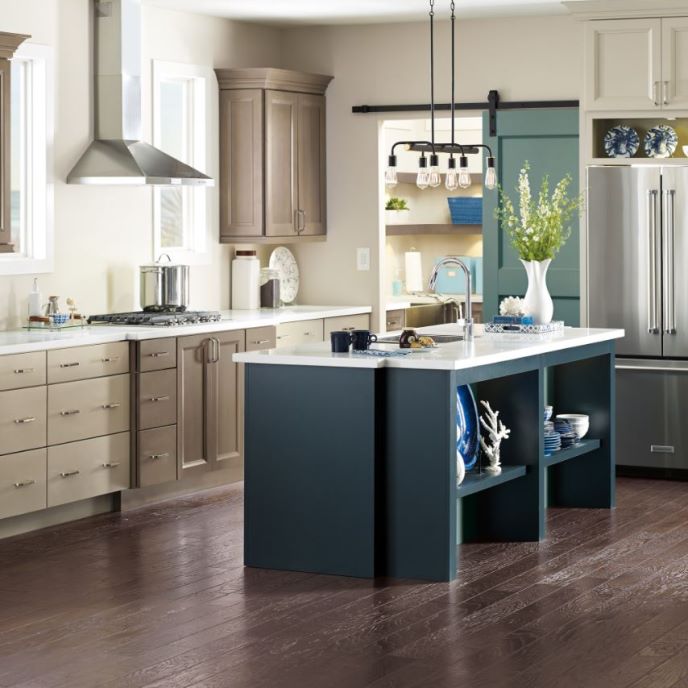 It wasn't so long ago that monochromatic kitchens were replaced by two-color kitchens. Homeowners embraced the idea of kitchens with two different shades of cabinets or an island in a different, complementary hue.
The newest kitchen trend is even more exciting, incorporating three cabinet colors into a single, cohesive space. The result is a beautiful, layered effect – and pulling it off is easier than you think.
Mixing Colors Artistically And Sensibly
Contrasting colors differ in lightness and darkness. Light green, for example, contrasts with dark green. The degree of contrast among the colors is simply a matter of personal taste. A homeowner may find that combining light blue upper cabinets with medium blue lower cabinets and a dark blue island creates a colorful appeal without feeling busy or overwhelming.
Analogous colors involve hues that are side-by-side on the color wheel. Such colors (thinks blues next to greens) are frequently found in nature, making them pleasing to the eye. Ideally, one color is selected as the focus, a second is used to support it, and a third is applied as an accent.
A split-complementary color scheme intentionally incorporates three different colors. Complementary colors are those that are opposite one another on a color wheel. Split-complementary schemes feature one base color and two complementary colors that are analogous to each another (a blue base, for example, with orange and yellow complements).
Triadic color schemes, perhaps the most vibrant of combinations, utilize three colors that are evenly spaced around the color wheel: red, yellow, and blue, for example. As with the split-complementary scheme, it makes design sense to choose one of the three colors to use most prominently and add the other two hues in on a smaller scale.
It's All About The Cabinets
Putting a color scheme to work in a kitchen is an easy way to personalize a space. Kymberlyn Lacy is the principal interior designer for International Flair Designs in Little Rock, Arkansas. Lacy encourages homeowners to utilize multiple colors in their kitchens… via their cabinets.
"Infuse your cabinets with bold neutrals, such as navy or grey," she says. "Create interest by selecting contrasting or complementary colors and add personality and pizzazz to your overall kitchen design."
The most-popular two-toned kitchens feature an island in a color that complements or contrasts the rest of the cabinets. An island with a different wood finish or paint color feels more like furniture than cabinetry, giving the kitchen a custom look.
Taking the kitchen from two colors to three is easy: one color is featured on the upper cabinets, a second on the lower cabinets, and a third on the island and/or woodwork. And that "color" doesn't always involve paint. Modern kitchens intermix a variety of wood tones.
All too often, "wood" is overlooked in a room's color scheme, but Washington DC interior designer Allison Horbaly wants to change that. "Wood tones are colors, too," she reminds homeowners. "If you have stained cabinets, a painted island, hardwood floors, and molding or other trim work, consider these different 'colors.' Your kitchen may already have more hues than you think!"
And mixing wood is not the design faux pas it used to be. In fact, wood that's all-matched is now frowned upon as looking dated. Today's fashionable kitchen might boast medium lower cabinets, lighter upper cabinets, and a rich dark island – all different shades of brown wood tones.
You can then take these ideas and move them into other rooms of the house. After all, cabinets aren't just confined to the kitchen. Think living room, mudroom, bathroom, and more that can be spruced up with a three-color cabinet scheme.
Review inspiration images for three-toned kitchens (or other rooms), and the online product catalog for cabinets. Add what you like to the myProSource Project Center, then discuss it with your ProSource Wholesale trade professional member to move forward on your renovation.
Keeping up with the latest trends is fun, but the ultimate goal is to create a kitchen that's livable. Whether you achieve that look with one, two, or several colors is entirely up to you!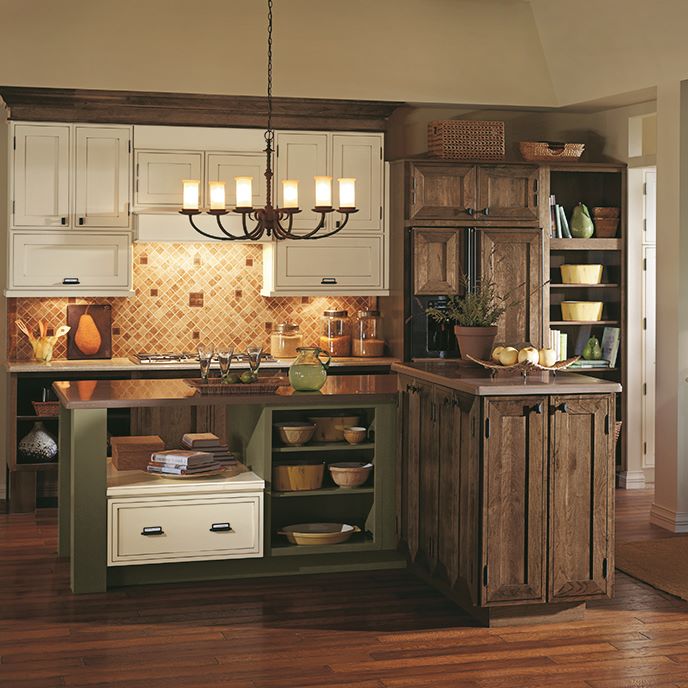 Cabinets
Kitchen
Design
Home Remodeling Projects Made Easy
Whether you are updating a little or doing a full-scale remodel, you've come to the right place. Browse stunning spaces created by ProSource trade professional members. Get inspiring tips and advice from experienced design specialists. Share your ideas with friends and family. Stay on budget with wholesale prices on more than 40,000 products.
Connecting You to the Right People
When you're ready to connect with a trade pro in your area, ProSource can help. Since 1991, we've grown to a network of more than 320,000 trade professional members and over 145 showrooms, offering the perfect team to make your projects successful.
---
5 Million Successful Projects. Make Yours Next. Sign Up