When ProSource Wholesale surveyed homeowners and trade professionals to determine the most popular design style, transitional easily beat coastal, craftsman, and modern as the clear-cut favorite.
"We love transitional design because of its clean look and cozy feel," says design specialist Denyne Sanville, owner of Denyne Designs. "That's the beauty of this style: not too stuffy, not too modern."
Emma Clark, founder and editor of The Art of Home Renovations, agrees. "Transitional design, simply stated, is the cohesive blending of classic and contemporary home designs. It's popular among millennials and anyone who desires a creative new look for their homes."
Clark explains that the transitional design uses both curves and straight lines to create a well-balanced interior. "Transitional designs stand out because of the use of neutral colors, textured palettes, and little use of furniture and accessories," she says. "The greatest challenge? Those who don't understand transitional design can make a mess instead of a cool, relaxed and neutral space."
Thankfully, Sanville and Clark are happy to share the basic steps to achieving a no-fail transitional look every time.
Stick With Neutral Colors
"Choosing neutral colors is what makes transitional design cohesive and easy on the eyes," Clark says. "That means saying 'no' to overly striking colors such as bright orange, deep red, or hot pink, and 'yes' to black, brown, white, gray, and blue."
Sanville doesn't mind using a "pop" of bright color. "This is the coup de grace that brings your personality into the space." But she also encourages homeowners to pick the main color that they want to work with – beige or gray, for example – and run with it. "To make your space interesting and not bland," she says, "take your selected neutral and vary the intensity of the shades you use."
You can find thousands of quality design products at ProSource Wholesale. Visit a showroom near you or look online to get your transitional redesign underway.
Don't Overdo Furniture And Accessories
"Keep it simple with clean lines," says Sanville. "They don't have to be all hard and straight, you can throw in some curves to make it interesting, just nothing too fussy, curved, or ornate here."
Clark says that the goal is to achieve a more spacious feel by blending a modern, minimalistic view with classical design. "This limits clutter and prevents making a mess of the overall design."
And Sanville cautions against going overboard with patterns. "Successful transitional styles uses simple patterns that aren't over the top," she says. "Find a pattern or shape that you like and repeat it in the room – something we in the design world call rhythm."
Feeling nervous about pulling it off? ProSource can help you connect with a trade professional in your area.
Create A Focal Point
"To counteract the limited use of accessories and furnishings, create a focal point to give the room more impact," says Clark. "You can use a painting, light fixtures, or even a piece of art in the middle of your coffee table."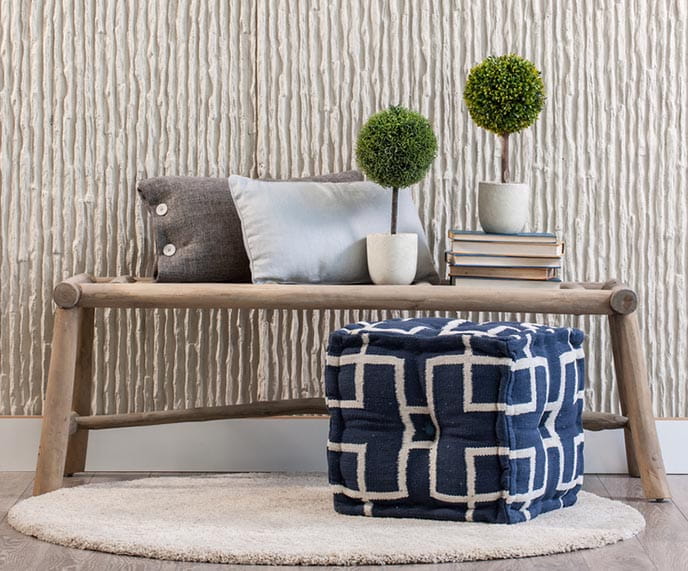 Photo by The Art of Home Renovations
Or introduce a focal point with customized tile (it's not just for kitchens and baths!). You'll find thousands of options at ProSource Wholesale.
Layer Classic Textures
"The use of textures adds to a more cohesive feel in the space," says Clark. "Using elements like glass, metal, and wood opens up many possibilities for customizing the design."
Sanville also likes mixing up classic textures – wood, metal, ceramics and stone, and glass – as well as introducing unexpected textures that are rough or smooth, furry or shiny. "Variety is the spice of life," she says, "and it's the lifeblood of an interesting interior."
Browse thousands of inspirational photos on the ProSource website. You'll be amazed at the creative ways trade pros and homeowners incorporate classic elements in their designs.
Kitchens Are Perfect For Transitional Design
Jennifer Sherrill, president of Kitchen Design Concepts, says her firm does "a ton" of transitional-style kitchens in the Dallas area. Like this kitchen that features traditional and modern influences. "You can see some bead board [wood, texture] on the hutch toward the back," says Sherrill, "but you have a very contemporary vent hood [metal, focal point] suspended over the island." The cabinets lean traditional, "however, there are none of the elaborate traditional components like turned legs or ornate crown molding," she says.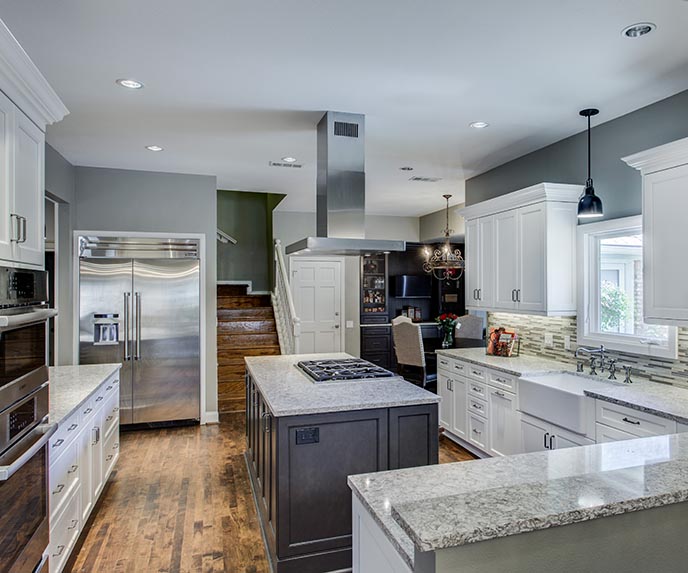 Photo by
Kitchen Design Concepts
Sherrill's firm also created this transitional kitchen, which is a really good example of mixing traditional and modern. "The cabinets at the TV sitting are a slab-front with the strong vertical veining that's seen in lots of contemporary kitchens today," she says.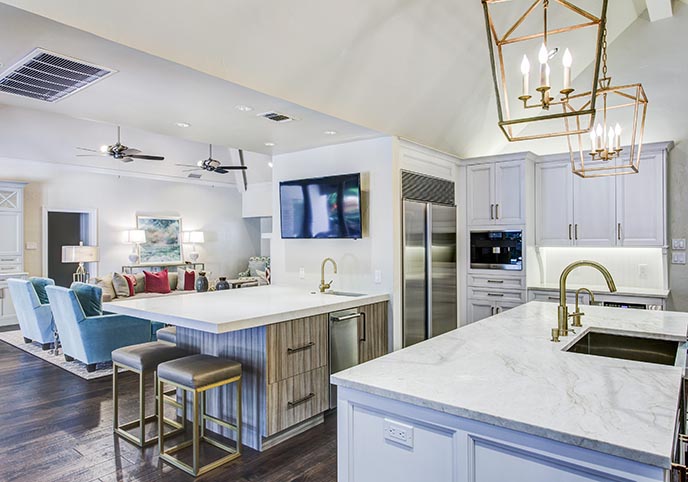 Photo by Kitchen Design Concepts
"Even the white cabinets are not ornate, but they're not modern either," Sherrill points out, adding that the brushed gold fixtures and lightly hand-scraped engineered wood floors complete the look.
ProSource offers thousands of products, from lustrous chrome faucets to striking white carpeting, that meet the definition of "transitional." Visit the Inspiration section to view amazing projects completed by ProSource members . Simply select the room you're designing, choose a budget, click "transitional," and get inspired!
Is transitional design not for you? Read more about our five other popular design styles.
Bathroom
Bedroom
Dining
Kids Room
Kitchen
Living Room
Office
Design
Home Remodeling and Commercial Renovation Made Easy
Whether you are updating a little, doing a full-scale remodel, you've come to the right place. Browse stunning spaces created with the help of ProSource Wholesale. Gain knowledge from articles with project tips and trends ideas. Browse over 50,000 products at low, wholesale prices. Then connect with your local showroom to get started.
Helping You Complete Successful Projects
With a team of product and project experts who provide personalized service tailored to your needs, ProSource is the source for project success. We're more than a home improvement store. Since 1991, we've been a trusted partner for trade professionals and their clients.
---
ProSource Helps Complete Successful Projects. Make Yours Next. Find A Local Showroom