No doubt about it – red is a color with power. It can stimulate passions and even increase energy. Feeling your heart beat a bit faster? It could be love… or maybe those sexy new red chairs you're crushing on. "Red is happy and stimulating," says Debbie Wiener of Maryland-based Designing Solutions. "That's why so many restaurants choose it. It's tough to be a wallflower in a red room."
A Rose By Any Other Name… Is Still A Shade Of Red
When we think of red, our minds tend to go straight to the color that tells us to stop at intersections. But red is much more dimensional than that.
For example, a gentle pink member of the red family called Rose Quartz shared top billing as a Pantone Color of the year for 2016. And an even softer, earthier tone called Pale Dogwood has been named one of Pantone's Top 10 Colors for Spring 2017, along with Pink Yarrow, a luscious, fresh-picked berry tone.
Annie Elliott, Principal Designer and CEO of Annie Elliott Interiors and Bossy Color, affirms the popularity of subtle shades of red. "Blush, which is a super soft, light red -- almost an off-white with a warm pink cast -- has been popular for several years in home accessories and decorating," she says. "It's a beautiful, warm color for walls, and because it's so light, it doesn't feel risky."
The BEHR Paints Color Currents 2017 report showcases three very different variations on red – Everything's Rosy, Artful Magenta, and Hot and Spicy, as well as a more terra cotta-toned cousin, Fired Up. Proof that reds of varying persuasions continue to be on-trend color choices.
Where To Invite Red Into Your Home
According to freshome.com, the color red, in its purer forms, raises a room's energy level. Since it can stimulate appetite, red is also quite at home in the kitchen.
On the other hand, pinks can inspire feelings of joy or contentment. According to Dr. Sally Augustin, a fellow at the American Psychological Association and founder of Design with Science, "People who are in a space colored Pepto Bismol pink, in particular, become calmer, also known as the 'pink effect.'" Depending on where you want to find your joy, a shade of pink can be a good choice for almost any space, from bedrooms to bathrooms… and even kitchens. For example, Case Design/Remodeling, Inc. used bright pink to add a pop of color to a white kitchen remodel. "The woman of the house loves pink and was inspired by her dinnerware when selecting the exact shade of pink to paint the walls," says project developer Jim Wren. "With white cabinets, homeowners can take more risks with wall colors, not only in kitchens, but also in other areas of the home such as bathrooms and powder rooms."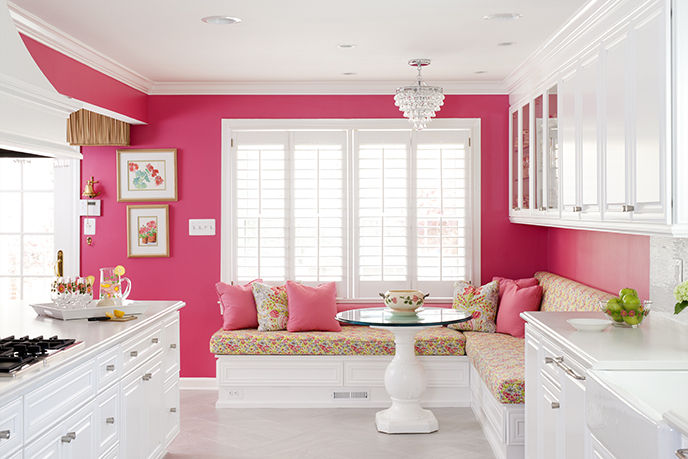 Photo by Case Design/Remodeling, Inc.
How Much Red Is Just Right?
If you're in love with the idea of using red in your room redesign, consider that the emotional strength of this color, especially in its purer forms, might make it a better choice for a feature or accent than as a main theme.
Remember those sexy red chairs we talked about earlier? A set of them around a dining table, or a standout piece in a living room, can add a touch of red to a room. The same holds true for décor accents such as pillows and artwork. Use these to make a statement – and don't be shy about it!
An accent wall or door in a shade of red can create a stunning focal point. To wake up a tired bookcase, try painting the wall behind it red.
The kitchen offers a smorgasbord of opportunities to blend in the vibrancy of red. For example, Omega cabinetry, one of the quality brands available through ProSource Wholesale Showrooms, offers a paint glaze finish called Cranberry Coffee – an on-trend shade perfect for traditional and transitional styles. If you want a modern kitchen design statement with an exclamation point, ask a ProSource designer about covering your counters in vivid red, with Silestone Life! Series Rosso Monza Quartz or KitchenCraft's Calvi Thermofoil Gloss Red Paint cabinets.
The kitchen backsplash provides another natural surface to showcase accents of red. A ProSource product expert can introduce you to a myriad of options, such as Dal-Tile Crimson Egyptian Glass Mosaic.
To bring red to your kitchen and beyond, don't overlook your floors. For example, adding a rug or carpeting allows you to introduce color as well as texture. With red-related tones ranging from the dusty pink of Duraweave Blushing Almodine to the succulent, deep red of Somerset House Labadie Kirsch, the extensive product lines at ProSource offer lots of ways to fall in love with red… and to bring that romance home, to your home.
Carpet
Tile
Cabinets
Countertops
Basement
Bathroom
Bedroom
Dining
Entertainment
Entry/Hallway
Kids Room
Kitchen
Laundry
Living Room
Media Room
Office
Outdoor
Home Remodeling and Commercial Renovation Made Easy
Whether you are updating a little, doing a full-scale remodel, you've come to the right place. Browse stunning spaces created with the help of ProSource Wholesale. Gain knowledge from articles with project tips and trends ideas. Browse over 50,000 products at low, wholesale prices. Then connect with your local showroom to get started.
Helping You Complete Successful Projects
With a team of product and project experts who provide personalized service tailored to your needs, ProSource is the source for project success. We're more than a home improvement store. Since 1991, we've been a trusted partner for trade professionals and their clients.
---
ProSource Helps Complete Successful Projects. Make Yours Next. Find A Local Showroom