The Ultimate Understanding Of Why Homeowners Choose ProSource Wholesale®
The Home for Remodeling Project Success
For homeowners, a project may seem daunting no matter what you call it – home remodeling, home renovation, home improvement, or even new construction. But it doesn't have to be, especially when you team with ProSource Wholesale
®
. We're your one-stop shop.
At ProSource
®
, we're committed to the success of our trade pro members and simplifying the process for homeowners. Whether you are updating a little or doing a full-scale remodel or new build, ProSource is the source for project success.
Experience the difference when you team with a true partner. You'll work with a dedicated account manager who provides personalized service that's tailored specifically to you. We carry an unrivaled product selection encompassing flooring, kitchen and bath. Our low, wholesale prices ensure any budget demands can be met.
If you're already working with one of our trade pro members, great. If you need a pro, the experts in our showrooms will gather your project details and refer you to trade pro members who can transform your vision into reality.
These are just a few of the perks of our partnership. Watch our video to learn why homeowners turn to ProSource, then read on to discover what distinguishes us. When you're ready,
contact your local showroom
to schedule a visit… and experience the ProSource Wholesale difference.
style="border: 1px solid #cccccc;">
---
Committed To Your Success
Personalized Service That We Take Personally
At your ProSource showroom, you'll be teamed with a dedicated account manager. Our talented experts will help your vision develop beautifully and smoothly with product guidance and project advice.
At ProSource, we personalize our effort and tailor it to your needs. It's the service you expect and deserve.
LEARN MORE >>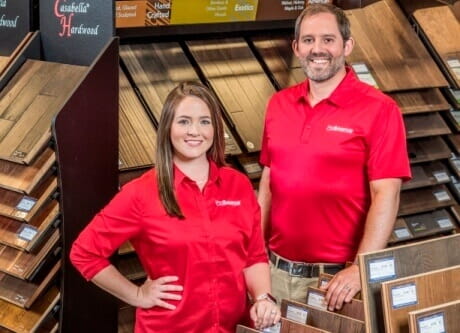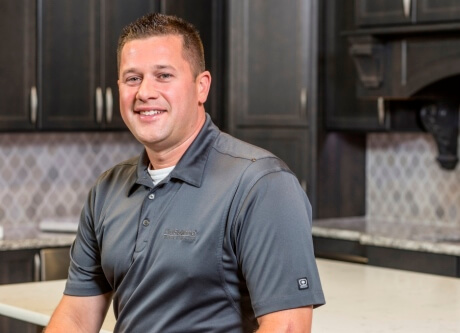 A Trusted Pro Network
If you need a pro, ProSource has a network of trade pro members, including architects, builders, contractors, designers, installers, remodelers, and more. Simply complete our online form, providing your project's details. One of our account managers will refer local members who can help your project come to life.
If you're already working with a trade pro you trust, have them contact their local ProSource showroom to become a member.
LEARN MORE >>
Comfortable, Private Showrooms
More than a home improvement store, ProSource showrooms are an ecosystem — a unique, private environment available only to our trade pro members and their clients. You'll discover the largest selection of remodeling products.

Peruse options in beautiful displays and crafted vignettes that provide real-environment views, plus experience flooring installed underfoot. Browse at your leisure and consult with our experts when needed. Our relaxed atmosphere makes the selection process a pleasure.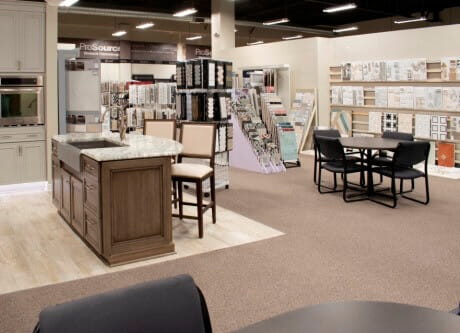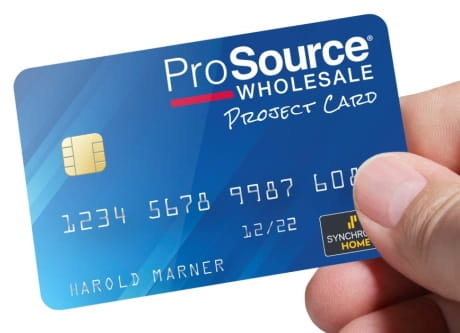 Give Credit Where It's Due
Depending on its scale, a home remodeling project can be costly. If money is a concern, or you'd like to stretch your budget further, apply for the ProSource Project Card.
This is not your standard credit card. It puts you in control with special no interest financing. Online tools provide easy access to your account balance and available credit anytime, anywhere. You'll be able to start when you want and move to "after" faster. Get more of what you want from your project without placing a strain on your bank account.
LEARN MORE >>
A Full Showroom Team
In addition to your dedicated account manager, you'll have access to the entire showroom team — the showroom manager, other account managers, in-house kitchen and bath designer, and warehouse staff. This unified unit maximizes service to achieve one goal – your success.

This is our culture. We adopt a team concept for full service. It's a key reason why homeowners have come to know ProSource as the source for home remodeling projects.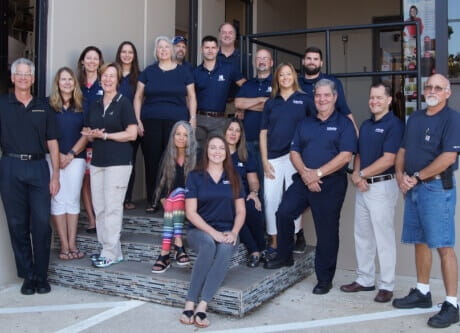 ---
Simplifying Projects
Proud Of Our Product Expertise
The showroom staff bring an established expertise across an array of products. They can clearly and succinctly describe features and benefits, and make recommendations when needed.
You can rely on their knowledge and guidance to select the product (or products) which are perfect for your space and fit neatly into your budget. Your project will seamlessly move from concept to creation.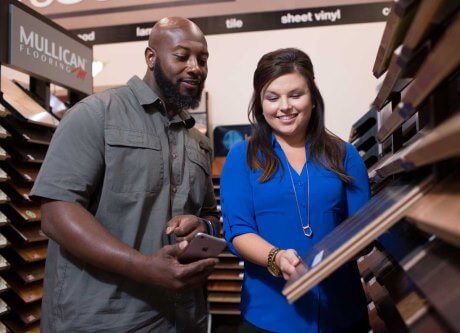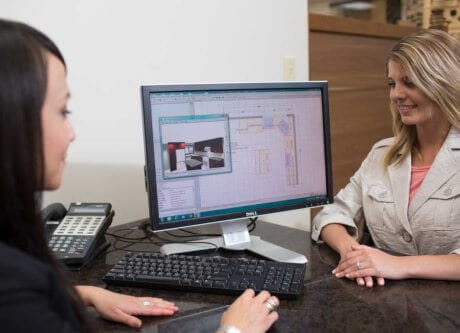 Design Services That Soar
Your kitchen or bath (or both) idea can take flight with ProSource. Our in-house kitchen and bath designer will team with you, your trade pro, and dedicated account manager, creating room layouts and providing plan guidance. They can orchestrate all components — cabinets, vanities, countertops, hardware, faucets, sinks, showers, tubs, toilets and accessories — into a cohesive design.
Our showrooms exist to assist you with every facet of your project. This is how a partner should act.
LEARN MORE >>
Try A Free Sample
Viewing products in a showroom or online doesn't always present a complete picture. You'd prefer to see them in your home, surrounded by your lighting, furniture and wall color. This can be a critical piece of the decision making process.
That's why at ProSource you can check out samples of flooring, cabinets, and countertops — at no cost. This enables you to compare and consider products in the desired room, ensuring a confident choice is made. It's peace of mind without a piece of your wallet.
LEARN MORE >>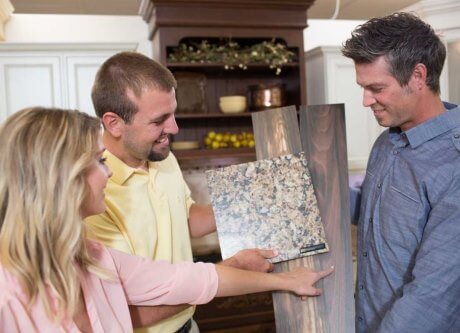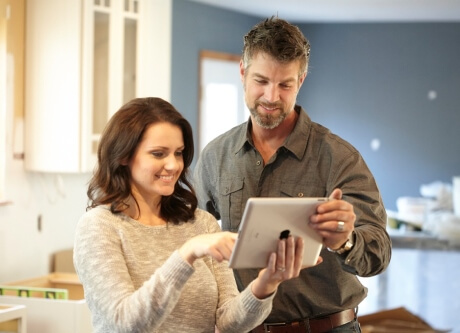 Screen Products On A Screen
ProSource showrooms carry a diverse and expansive product selection; however, walls have limits. Yet the horizon is limitless in the digital world. On the ProSource Wholesale website you'll find best of both, with over 50,000 products to browse.
Narrow your choices with filters for type, color, size, style, brand and more. If you have favorites, save them to your online project and request a sample or an estimate. Dive into the digital realm of our impressive online product catalog.
VIEW PRODUCTS >>
My Account… My Project… myProSource
Unlock the full potential of the ProSource Wholesale website. Sign up for a free online account for access to your personal hub, then watch your project unfold in a digital environment.
Post images of rooms that inspire you. Select eye-grabbing products you want for your space, and even request an estimate. Add before and during photos to illustrate the progress, along with images of the final reveal. Plus, invite friends and family to join so they can share in the transformation. It's the power of myProSource.
LEARN MORE >>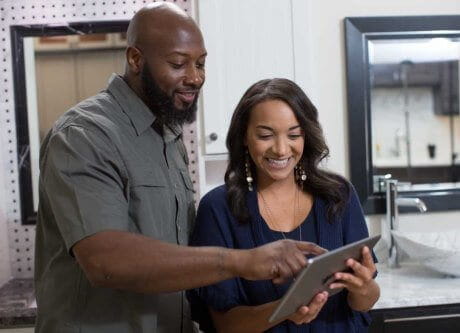 ---
Widest Product Selection
Low Prices You Want
ProSource Wholesale showrooms are local, but they pack a national presence with over 145 locations across North America. That creates immense buying power — savings we pass along to you.
We understand cost is an influential factor with purchase decisions. The ProSource pricing structure alleviates that concern. Our low, wholesale prices mean you don't pay retail markups. As a result, you'll stay on budget. Dare to dream big and get the look you want.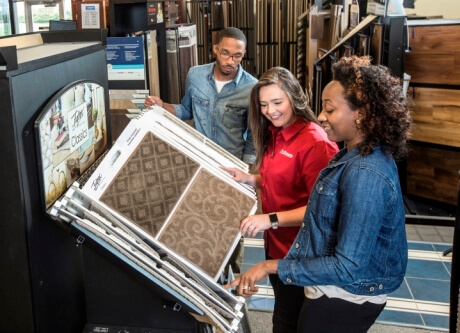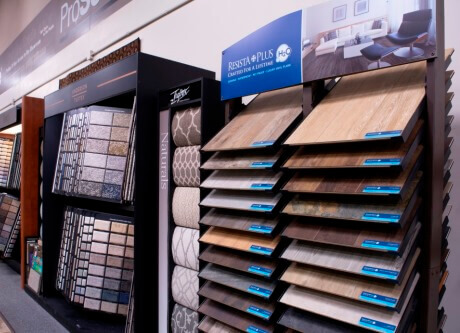 In Style and On Trend
Timeless looks will endure, but the emerging styles and trends which are piquing interest are also within reach. Our showrooms keep a savvy eye on local, national and global moves, working with suppliers to ensure product trends are readily available.
Any preferred design can be accommodated, including contemporary, transitional, farmhouse or modern farmhouse. Select product favorites such as luxury vinyl plank, large format tile or waterproof options. As styles and trends change, it's cool knowing the hottest ideas are available at ProSource Wholesale.
Your One Stop Shop
Look to ProSource for an unmatched product selection, in the showroom and online. The ideal look and desired design style can be achieved within budget under one roof. ProSource is the one source for all the products for your project.

Discover a treasure of choices — flooring, kitchen and bath — as well as care products to ensure their lasting beauty and performance. Pair this with low wholesale prices and exceptional service, and it's clear we're the only destination for project success.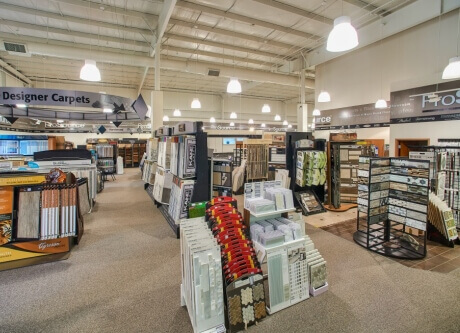 Price Protection You Deserve
There's no reason to shop elsewhere. ProSource Price Protection* ensures you won't pay a higher price… or we'll give you $100. It's a pricing security blanket and part of our pledge to provide what you need.
* Bring a written quote into your ProSource Wholesale showroom at the time of purchase. If, for any reason, ProSource can't beat a competitor's first-quality, non-closeout price on identical merchandise, we'll give you $100 on the spot. Applies to exact brand comparisons only. Each showroom is independently owned and operated. Products and prices may vary by location.
LEARN MORE >>
Quality Products You Expect
We believe our customers are the best, which is why we offer only the best with our product offerings. Immerse yourself in the industry's finest flooring, kitchen and bath options from the leading national manufacturers as well as local suppliers.

Whether you browse online or inside one of our showrooms, you'll find top-quality selections matching the latest trends along with products with timeless appeal. Find eye-capturing looks, unrivaled durability and even waterproof features. It's an extraordinary blend of appearance and performance.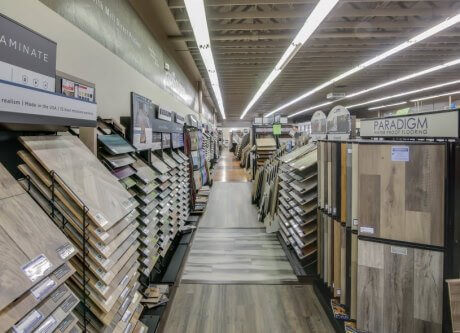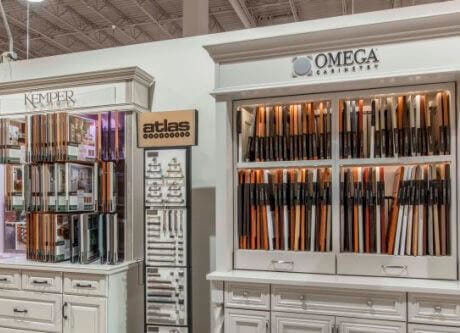 A Bounty Of Top Brands
ProSource Wholesale has an abundance of products from the industry's top names. Browse a wide assortment from Mohawk, Shaw, COREtec, Stainmaster, Fabrica, Masland, Emser, Baroque, Decora, Diamond, Kemper, Omega, Schrock, and many more.
We also carry options sourced from regional and local suppliers which are in-tune and specific for your market. Plus, our showrooms carry preferred brands available only at ProSource. It's an impressive, diverse and unrivaled collection.
SEE OUR BRANDS >>
Vast and Varying Number of Products
Whether online or in the showroom, you can browse over 50,000 home remodeling products. See the latest trends and revel in the choices — from flooring to kitchen to bath.
Enjoy an impressive assortment that includes flooring (luxury vinyl, ceramic tile, stone, hardwood, carpet, laminate), kitchen (cabinets, cabinet hardware, countertops, faucets, sinks) and bath (vanities, faucets, sinks, showers, toilets, tubs, accessories). A profound product offering awaits you at ProSource Wholesale.
VIEW PRODUCTS >>