ProSource | 8/15/2017 | Expert Advice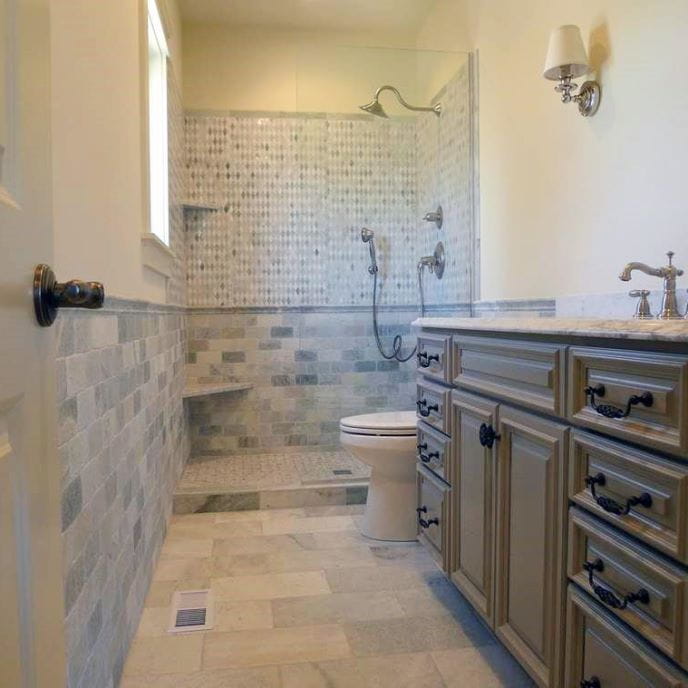 Bathrooms are oftentimes the most difficult to imagine remodeling due to their size constraints. But the amount of time and functionality we require from a bathroom makes it the ideal room for a remodel.
Knowing some tips and tricks from the pros can help you turn your cramped bathroom quarters into a mini oasis. Follow these big ideas to turn a small bathroom into your dream space.
Tip 1: Maximize Storage
The one thing every bathroom needs is space to store all the necessities -- from washcloths and towels, to soap, shampoo and other sundries. Not every bathroom has the space for floor-to-ceiling built-in shelves, but there are other ways to get creative.
Floating shelves can provide storage space for style-boosting accessories and make your bathroom appear larger by allowing you to see all the way to the wall. Paint the inside of your vanity a bright shade – or use brightly colored adhesive paper – to make storing your necessities a little more fun.
Tip 2: Light It Up
The right lighting can make all the difference for how your room is perceived. If your bathroom has windows, do your best not to cover them up. And if you're able, add a skylight to flood your space with even more natural light.
A mix of task and ambient lighting will help create the illusion of a larger room. Sconces mounted on either side of the vanity mirror will cast an even glow. Ditch the overhead fixture in favor of a pendant lamp or chandelier for better ambient light and a more creative design.
Cove lighting is another option to consider and can be created by hiding rope lights behind crown molding near the ceiling for a soft glow around the perimeter of the room.
Tip 3: Go Ahead And Splurge
The upside to a tiny space is that you can choose high-end elements without setting your budget back too much. Even something as pricey as a marble hexagonal tile won't break the bank, simply because there's not much square footage to cover.
A hand-carved marble sink, metallic damask wall covering, a gold gilded mirror or crystal wall sconces work to create an impactful space. And an oversized showerhead and radiant heated floors are accessories that can turn your small bathroom it into a mini retreat.
Tip 4: Create An Illusion
You may not have much space, but with a little bit of design magic, you can create the illusion of space.
A glass shower enclosure will make the room appear larger by allowing you to see from one end of the room to the other. It also eliminates the visual barrier of a shower curtain or doors. A curb-less shower entry eliminates the demarcation of an already limited footprint.
A wall mount or classic pedestal sink will take up less visual space without compromising style. If you need the additional storage space, a curved-front vanity can maximize usable space and add a soft design element.
Opt for accessories that carry the eye upward, such as a large, frameless mirror and a ladder towel rack to create the illusion of vertical space.
Tip 5: Scale Down
A small room means smaller fixtures and accessories. Scaling back the size of towel racks, lighting fixtures and faucets can help to keep from overwhelming a small space.
Replace your standard door with a pocket door to lend privacy while freeing up floor space. Consider small flooring tiles, too. Mosaic tiles are not only smaller than most, they're also attractive and practical. Small tiles mean more grout lines, which provide more traction in a water-prone bathroom.
Tip 6: Add Color…Or Not
There are differing opinions on whether or not to use color in small bathrooms. A soft, neutral or white color palette for walls will maximize light, while just the right amount of color can add your unique sense of style to a shower curtain, towels or accessories.
A bright-white palette keeps a small space from feeling cramped, but bold patterns and a splash of color can add dimension and a dose of fun. Let your own preference guide your color choices.
ProSource Wholesale has what you need to turn your small space into a wonderful spa. When you're ready, follow our tips for your bathroom remodel and peruse our bath product catalog for some additional inspiration. Be sure to save your ideas to the myProSource Project Center.
Then let our dedicated showroom staff put you in touch with a trade professional who can help turn your dream bathroom into a reality!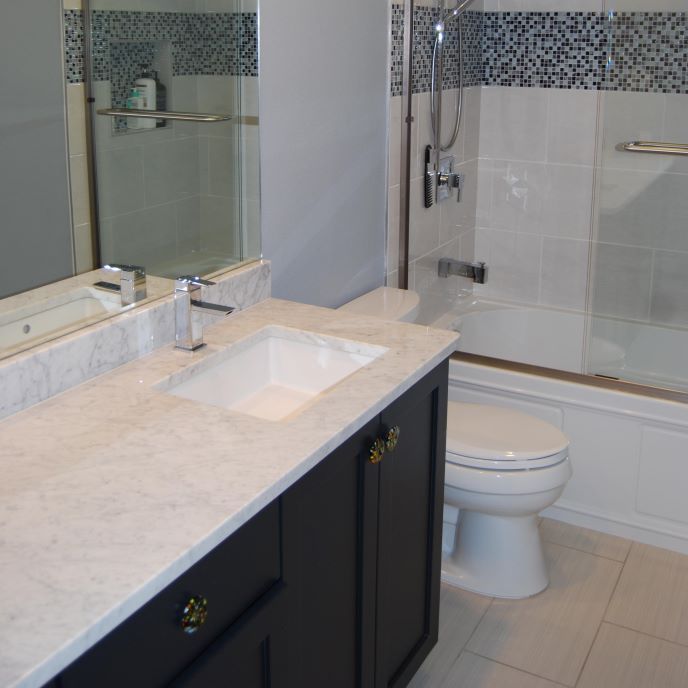 Tile
Accessories
Bath Sink Faucets
Bath Sinks
Shower Bases
Shower Doors
Shower Faucets
Shower Heads
Bathroom
Home Remodeling Projects Made Easy
Whether you are updating a little or doing a full-scale remodel, you've come to the right place. Browse stunning spaces created by ProSource trade professional members. Get inspiring tips and advice from experienced design specialists. Share your ideas with friends and family. Stay on budget with wholesale prices on more than 40,000 products.
Connecting You to the Right People
When you're ready to connect with a trade pro in your area, ProSource can help. Since 1991, we've grown to a network of more than 320,000 trade professional members and over 145 showrooms, offering the perfect team to make your projects successful.
---
5 Million Successful Projects. Make Yours Next. Sign Up