ProSource Wholesale® Is The Source For Trade Professionals
Member benefits abound. Re-discover what distinguishes us.
You were motivated to join ProSource; now it's time to maximize your membership. Explore all the perks of partnership for your home building or improvement project.
Whatever you call it — home improvement, home remodeling, home renovation — along with building and commercial projects, we work with you from start to finish, and onto your next job. For products and service, we're your one-stop shop.
At ProSource®, our goal is to ensure your vision is achieved and your project is a triumph. This is why you signed up. When embarking on a home or commercial project, remember, you have a true partner with us.
We're committed to the success of our trade pro members — architects, builders, contractors, installers, interior designers, remodelers, real estate professionals and more. Whether you are updating one room, undertaking a whole house remodel, or building a custom home, ProSource is the source for your project's success.
Our business model is designed specifically to cater to you, the trade professional, and your clients. We never forget this… it's part of our DNA. Since our founding in 1991, ProSource Wholesale has established itself as the leader for transforming home building and remodeling visions into reality. We excel at providing exceptional, bundled offerings not found elsewhere.
Your membership benefits are outlined below. Ensure you're taking full advantage of what's available to you. Your local showroom can provide more details. Contact or visit us again soon and continue to experience the ProSource difference.
---
Videos To Visualize Your Membership Benefits
---
Committed To Your Success
Personalized Service That We Take Personally
At ProSource, we want to foster your business. That's why you'll work with a dedicated account manager. Our experts act as extension of your business, standing beside you on every project. They provide product advice, offer project guidance, and help you brainstorm ideas.
Because we get to know you, our efforts are tailored to your needs. This is the service you expect and deserve.
LEARN MORE >>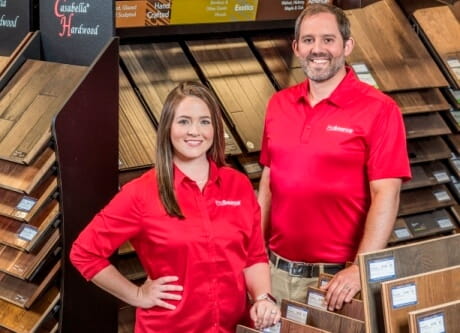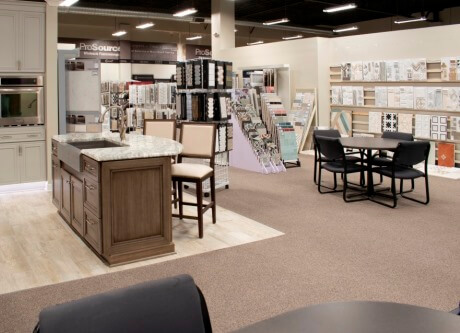 Your Private Showroom Awaits
We're beyond a home improvement store. The ProSource showroom is an ecosystem which was created for you. Within our relaxed atmosphere, you can browse products at your leisure and consult with our experts.
Product choices are made easier as you immerse yourself with options in sorted displays and crafted vignettes that provide real-environment views. It's a comfortable, private experience available only to our trade pro members and their clients.
LEARN MORE >>
Client-Friendly Pricing
Showroom prices tags show list (the suggested retail price found at a competitor) and wholesale (the price your client pays). The wholesale price includes a 10% referral fee paid to you upon job completion.
This approach removes the guesswork and visually confirms your wholesale advantage. If your client comes to the showroom without you, your account manager can process the sale, confirming your pricing guidelines and ensuring you earn a referral bonus.
LEARN MORE >>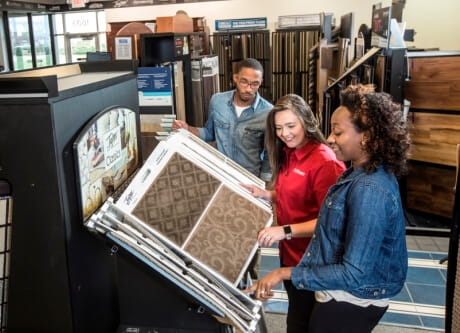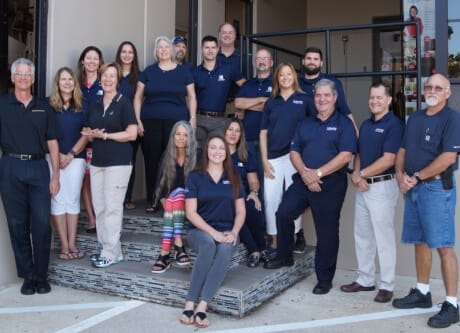 A Full Showroom Team
In addition to your dedicated account manager, as a ProSource member you'll have access to the entire showroom team. This includes our showroom manager, other account managers, in-house kitchen and bath designer, and warehouse staff. They work as a cohesive unit to maximize our service to achieve one goal – your success.
Adopting a team environment is part of the culture at ProSource. Having a whole team that provides full service is a key reason we're the source for pros.
LEARN MORE >>
Financing For You
Don't let cash flow impact your business. ProSource offers exclusive financing to our trade pro members with ProTrade Credit™. With online access, you can review account balances and available credit, track spending, make payments, create invoices, and more.
We also offer consumer financing for your homeowner clients. It's yet another perk of ProSource partnership.
LEARN MORE >>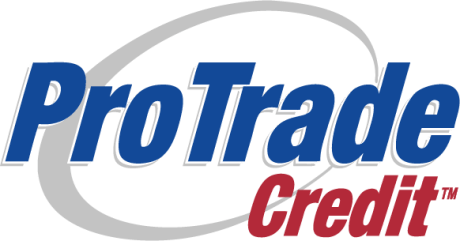 The Perks of ProPerks
Partnering with ProSource gets a boost with ProPerks, an exclusive benefit for trade pro members. It's a web-based platform which offers cost-cutting and time-saving tools to help grow your business.
You'll have access to a vendor network which provides pre-negotiated pricing to reduce costs on everyday products and services, such as financing, office supplies, payroll, phone and more.
LEARN MORE >>
You Lead The Way, So We Give You Leads
ProSource believes part of our mission is to help you attract new clientele. That means providing you with qualified leads. Through our ProSource Pros website feature, potential clients use an online form to provide details regarding their project. Our showroom then hand-selects trade pro members who can best fulfill their request.
It's our promise as your partner to help grow your business. And it's why you trust ProSource Wholesale with your business.
LEARN MORE >>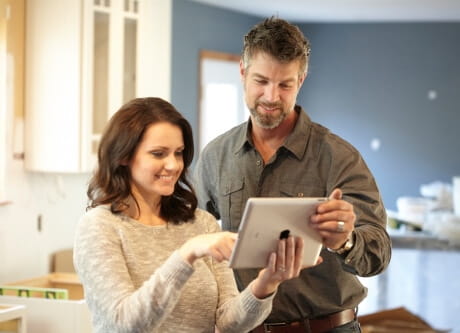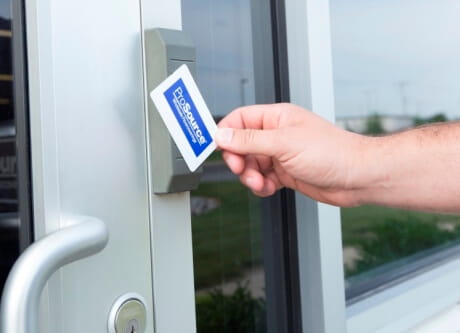 It's Your Showroom On Your Schedule
Building and remodeling projects aren't confined to specific days or times. That's why we offer ProKey™. Using secure access, our showrooms are available to you 24 hours a day, 365 days a year.
Ideas can spark at any time, from early morning to late at night. So whether you want to browse products by yourself or with a client, we grant you the key as the showroom becomes yours… at your convenience.
LEARN MORE >>
An Event To Remember
ProSource often serves as the host for member-only events. Topics include industry trends, product knowledge, installation tips, or opportunities to meet the showroom team. In some cases, you'll be able to earn continuing education and/or certification credit.
These events are designed to be educational, engaging and enjoyable. Most of all, they aim to benefit our trade pro members. Watch for an invitation from your local showroom for their next event.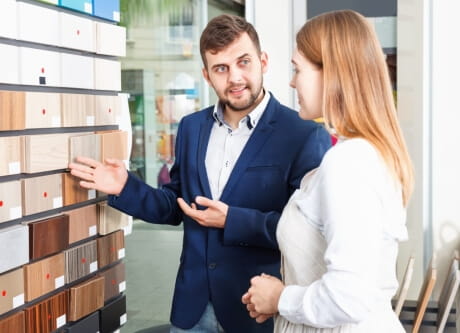 ---
Simplifying Projects
Proud Of Our Product and Project Expertise
Our showroom staff utilizes the vast experience they possesses to elevate any project. Their insight into product features and benefits, and an understanding the project components to consider, fuse together to forge a powerful ally for your plans.
Rely on the knowledge and guidance of your showroom dedicated account manager and the entire team for selecting the perfect product(s), picking the proper sundries and installation supplies, and transforming your project from concept to creation.
LEARN MORE >>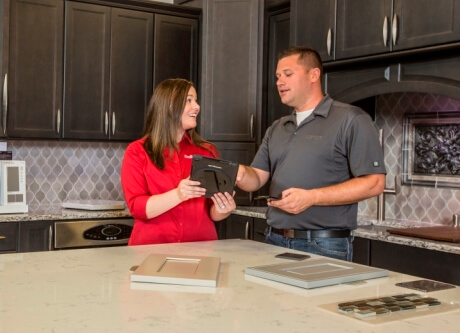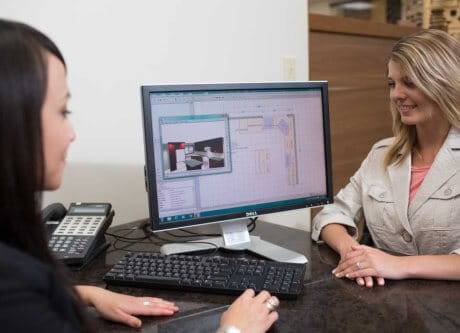 Design Services That Soar
When faced with a kitchen or bathroom project, you can have your vision take flight. ProSource offers design experts who provide room layouts and help plan the project. They can orchestrate all components — cabinets, countertops, hardware, faucets, sinks, showers, tubs, toilets, vanities and accessories — into a cohesive design.
Our showrooms exist to assist you and your clients with every facet of the project. This is how a partner should act.
LEARN MORE >>
Your One Stop Shop
ProSource has a product offering which is unmatched. From trendy to timeless, rustic to modern, economical to premium… the optimal look, design style and budget for your project can all be achieved under one roof.
Turn to our showroom to find the products you need — flooring, kitchen and bath — along with sundries and installation supplies. Plus, you can lean on the expertise of your dedicated account manager and our in-house kitchen and bath design services.
LEARN MORE >>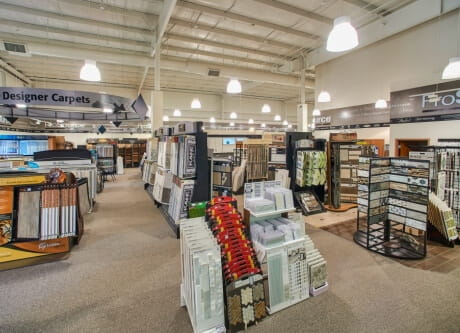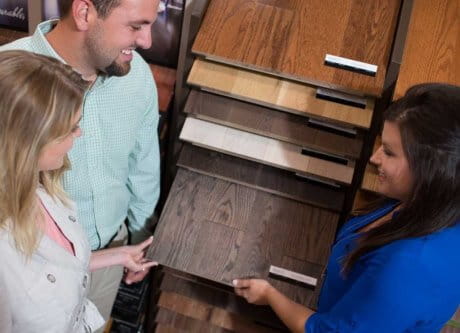 Try A Free Sample
Viewing product samples in a showroom presents a glimpse, but it's not a complete picture. Taking them to the job site, seeing how they'll look with the wall color, furniture and accessories, can be vital for the final decision.
At ProSource showrooms, samples can checked out so they can be seen in their eventual surroundings. Best of all, it's a perk provided at no cost. We offer this as a service to you, granting peace of mind without a piece of your wallet.
LEARN MORE >>
Screen Products On A Screen
Our showrooms carry a diverse product selection, but walls have limits. In the digital world, the horizon is limitless. On the ProSource website, you'll find the showroom offerings combined with additional choices. There's over 50,000 products to browse.
Target a narrower list using filters for type, colors, sizes, styles, brands and more. You can save favorites or request a sample. Dive into the digital realm of an impressive online product catalog.
VIEW PRODUCTS >>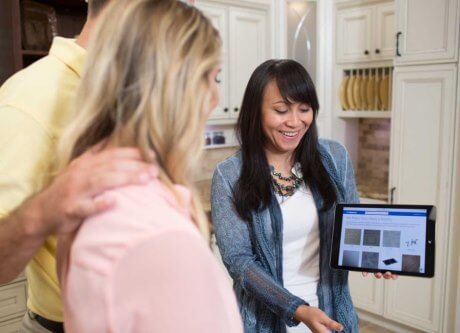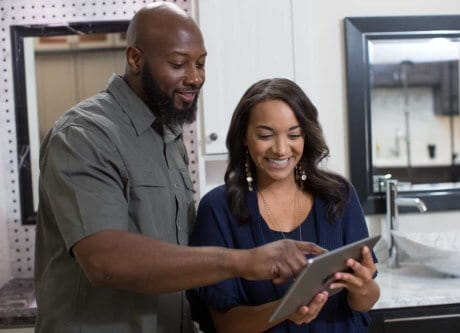 My Account… My Project… myProSource
By signing-up for a free online account, you'll gain access to myProSource. This is a personal hub within the site where you can digitally manage your ProSource business.
Review your estimates and orders anytime, anywhere. Create an online profile and publish images of your work to attract new clientele. Collaborate on projects with clients and the showroom. It's the power of myProSource.
LEARN MORE >>
Accessibility Anywhere Thru Our App
Access the information you need… wherever, whenever. The power of the ProSource app, designed exclusively for our trade pro members, lies in the features it provides.
Receive notifications when status changes occur for one item or the entire order. Be alerted when estimates are available. Approve orders and make payments easily and securely. Have access to three years of estimates and orders. See current calendar year referral bonuses earned on completed jobs. It's a mobile tool that packs a potent punch.
LEARN MORE >>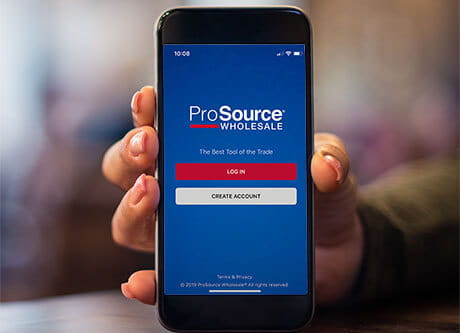 ---
Widest Product Selection
Quality Products You Expect
Inside ProSource showrooms and through our online catalog, you'll be immersed in the finest of industry offerings for flooring, kitchen and bath. We only carry top-quality products from the leading national and local manufacturers.
Browse the latest trends, hottest styles, and products that offer timeless appeal in appearance and performance. Choose from carpet, hardwood, tile, vinyl, laminate, backsplash, cabinetry, counters, faucets, sinks, showers, toilets, tubs, vanities and more.
LEARN MORE >>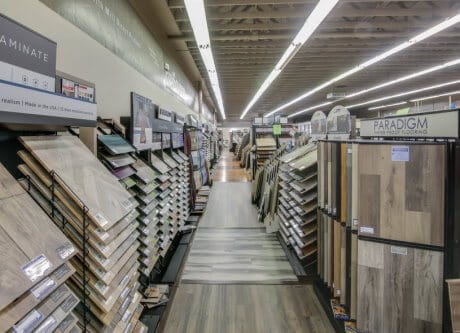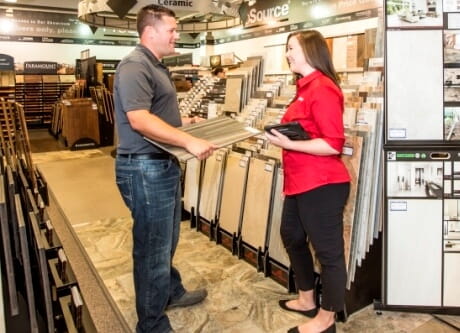 Low Prices You Want
ProSource Wholesale has local showrooms with a national presence. Our over 145 locations across North America grant us tremendous buying power — and we pass those savings along to you.
With our low, wholesale prices, you won't pay retail markups. Cost can tend to influence product decisions. Our pricing structure relieves those concerns, allowing your project's vision to be achieved without busting the budget.
LEARN MORE >>
Price Protection You Deserve
There's no reason to shop elsewhere. ProSource Price Protection* ensures you won't pay a higher price… or we'll give you $100. It's a pricing security blanket and part of our pledge to provide what pros need.
*
Bring a written quote into your ProSource Wholesale showroom at the time of purchase. If, for any reason, ProSource can't beat a competitor's first-quality, non-closeout price on identical merchandise, we'll give you $100 on the spot. Applies to exact brand comparisons only. Each showroom is independently owned and operated. Products and prices may vary by location.
LEARN MORE >>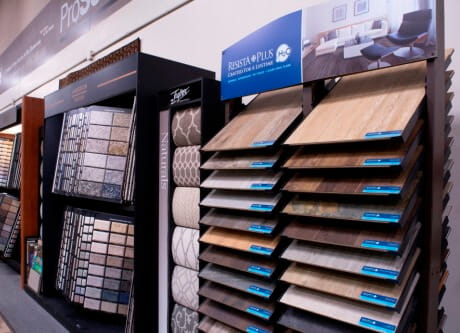 In Style and On Trend
Our showrooms will always carry products with timeless appeal, but ProSource is also the source for the latest (and emerging) styles and trends. We're aware of market moves and work with suppliers to ensure you have access to the products which are piquing interest.
From contemporary to modern farmhouse, luxury vinyl plank to large format tile, bold colors to eye-popping patterns… every preference is possible. As styles and trends change, how cool is it knowing the hottest ideas are available to you through your membership.
LEARN MORE >>
A Bounty Of Top Brands
At ProSource, there's no shortage of products from the industry's top manufacturers. Browse a wide assortment from Mohawk, Shaw, COREtec, Stainmaster, Fabrica, Masland, Emser, Baroque, Decora, Diamond, Kemper, Omega, Schrock, and many more.
You'll also find products sourced from regional and local suppliers, in-tune and specific for your market. Plus, our showrooms carry exclusive preferred brands across the spectrum of product categories. It's a diverse collection that has no rival.
OUR BRANDS >>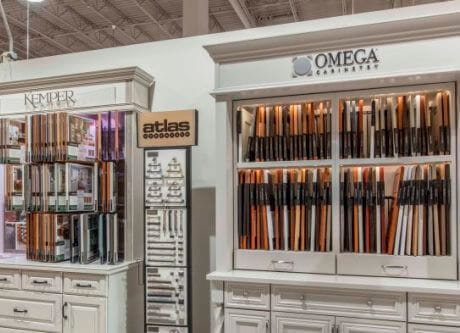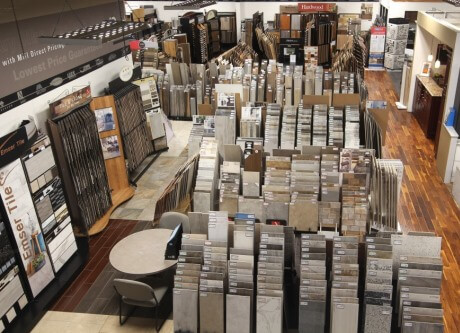 Vast and Varying Number of Products
Immerse yourself in an immense amount of product possibilities – over 50,000 between the showroom and our online catalog.
Whatever options are desired, ProSource is the source. This includes flooring (carpet, hardwood, laminate, luxury vinyl, ceramic, stone), kitchen (cabinets, cabinet hardware, countertops, faucets, sinks) and bath (faucets, sinks, showers, toilets, tubs, vanities, accessories). A profound product offering is another perk of partnership.
VIEW PRODUCTS >>
---
Digital Membership Kit